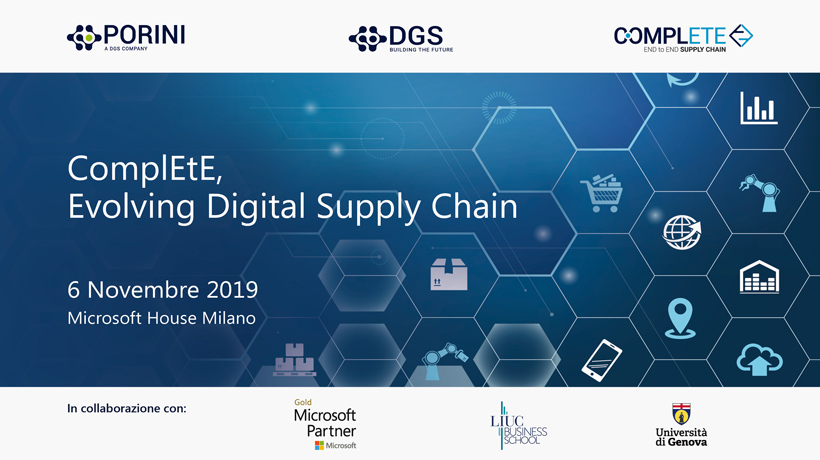 Microsoft House
Viale Pasubio 21, Milan
Porini and DGS are organizing on Wednesday, November the 6th, at the Microsoft Envisioning Theatre in Milan, a meeting to dialogue about the evolutions in progress in the management of the Supply Chain.
Starting from the analisy of the results of a Survey carried out with Digital360, thanks to the interaction with experts from the academic world of the LIUC Business School and the University of Genoa and best-in-class companies such as Coca Cola, Danone, Dompé Farmaceutici and Whirlpool, we will outline the best practices for an effective and efficient supply chain.
It will be also presented a preview of the ComplEtE Suite, a revolutionary platform able to manage these processes through innovative Supply Chain Management models, effective decision support algorithms and advanced cooperative processes.
Based on Microsoft Azure's Cloud platform and natively integrated with ERP, CRM and IoT platforms, the ComplEtE Suite contains modern best practices in Supply Chain process management, making the most of the most innovative cloud computing and artificial intelligence technologies, made available by the DGS-Porini team.
Free event, limited places.

Microsoft House
Viale Pasubio 21, Milano
Porini e DGS organizzano mercoledì 6 novembre, presso il Microsoft Envisioning Theatre di Milano un momento di confronto sulle evoluzioni in atto nella gestione della Supply Chain.
Partendo dai risultati di una Survey realizzata con Digital360, grazie al confronto con esperti dal mondo accademico della LIUC Business School e dell'Università di Genova e delle imprese best-in-class quali Coca Cola, Danone, Dompé Farmaceutici e Whirlpool, si andranno a delineare le best practice per una Supply Chain efficace ed efficiente.
In tale contesto verrà inoltre presentata al mercato la Suite ComplETE, una piattaforma rivoluzionaria a supporto dei processi supply chain "End-to-End", basata su innovativi algoritmi e motori di intelligenza artificiale e pensata per gestire efficacemente tutti moderni processi di cooperazione integrata.
Basata sulla piattaforma Cloud di Microsoft Azure ed integrata nativamente con le piattaforme ERP, CRM e IoT, la Suite ComplEtE racchiude le moderne best practice nella gestione dei processi di Supply Chain, valorizzando al meglio le più innovative tecnologie di cloud computing ed intelligenza artificiale, messe a disposizione dal team DGS-Porini.
Evento gratuito, posti limitati.
https://www.porini.it/wp-content/uploads/2019/10/191106-ComplEtE_News-820x460.jpg
460
820
Porini Marketing Team
https://www.porini.it/wp-content/uploads/2019/09/Logo_Porini-184x110.png
Porini Marketing Team
2019-10-01 14:10:36
2019-10-03 17:49:18
ComplEtE, Evolving Digital Supply Chain