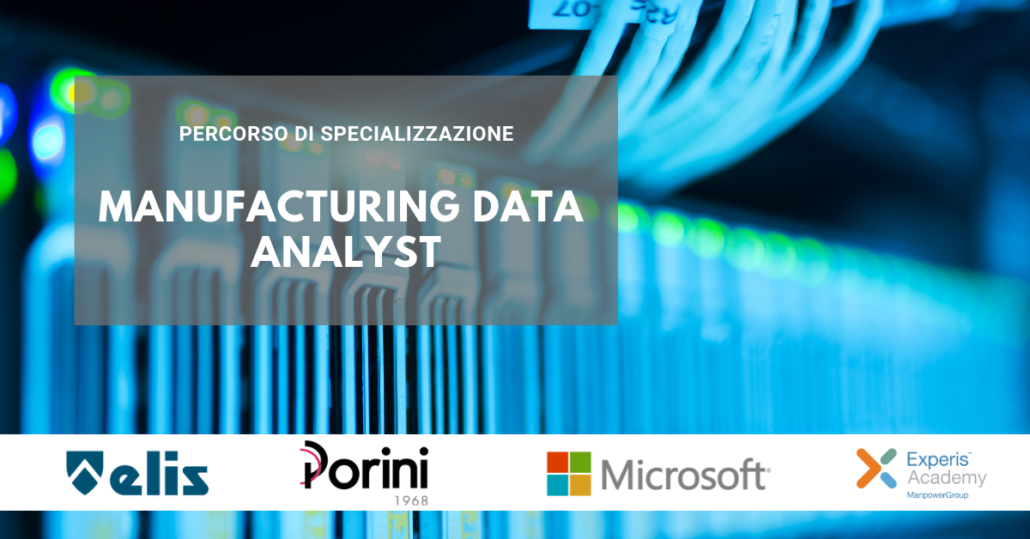 Porini with Experis Academy:
Manufacturing Data Analyst course
PORINI with Experis Academy presents the Manufacturing Data Analyst course: the course is designed to provide and develop skills in data Analysis from production processes. The course goal is to train professionals in a position to understand, analyse and use these data to identify criticalities and propose solutions in order to implement and improve the production and technologies associated with it.
Duration: 15 April – 28 May
Frequency: 240 hours – From Monday to Friday
Location: ELIS, Rome

Porini con Experis Academy:
Corso in Manufacturing Data Analyst
PORINI con Experis Academy presenta il corso in Manufacturing Data Analyst: il corso è progettato per fornire e sviluppare competenze nell'ambito dell'Analisi dati provenienti dai processi produttivi. Obiettivo del percorso è formare professionisti in in grado di comprendere, analizzare ed utilizzare al meglio tali dati per individuare criticità e proporre soluzioni al fine di implementare e migliorare la produzione e le tecnologie ad essa legate.
Argomenti principali
Gestione e pianificazione della produzione, efficienza produttiva, elementi e software statistici, affidabilità dell'impianto relativo alla manutenzione, project management, IoT, progettazione del layout, analisi dei costi, sistemi informatici di intelligence di fabbrica.
La didattica prevede lezioni frontali in aula, esercitazioni individuali e di gruppo, analisi casi aziendali, project work finale. La docenza è curata da professionisti del settore facenti parte del network Experis Academy.
A chi è rivolto
Il corso di specializzazione è rivolto a 15 laureati magistrali e triennali in Ingegneria Elettronica, Automazione,
Meccanica, Meccatronica, Informatica, Biomedica, Aerospaziale, Gestionale ed Informatica, Fisica, Statistica,
Matematica, Economia, in cerca di lavoro e con buona conoscenza della lingua Inglese.
Durata del corso: 15 aprile – 28 maggio 2019
Frequenza: 240 ore – Lezioni dal lunedì al venerdì
Sede: ELIS, Roma
https://www.porini.it/wp-content/uploads/2019/03/Data-Manufacturing-Experis.png
628
1200
Porini Marketing Team
https://www.porini.it/wp-content/uploads/2018/08/logo_porini1968_fucsia_184x130.png
Porini Marketing Team
2019-03-26 12:44:26
2019-03-26 12:44:26
Porini with Experis Academy: Manufacturing Data Analyst course