Modern Marketing & Advanced Analytics – October 28, Verona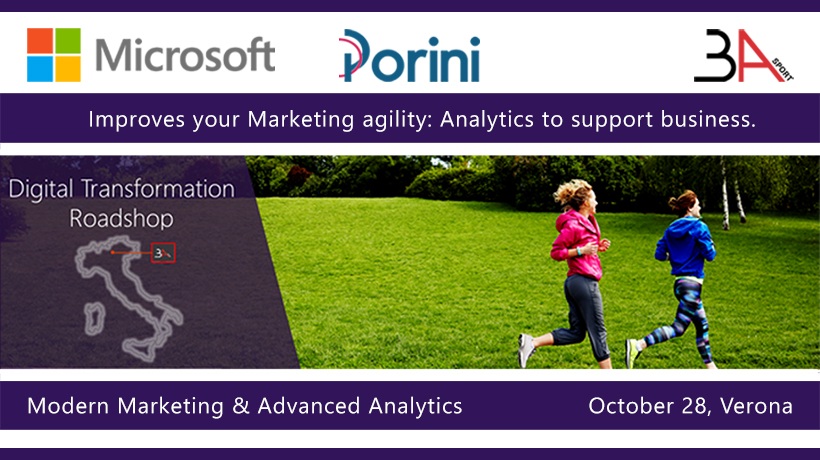 Verona, 28 October
Improves your Marketing agility: Analytics to support business.
Join the workshop organized by PORINI in collaboration with Microsoft to explore new ways of strengthening the modern company's marketing strategy through Analytics.
3A dei fratelli Antonini, official Nike distributor, which will host the event, will witness its journey in the adoption of technologies for advanced data analysis and the benefits obtained.
During the workshop, we discuss how Microsoft PowerBI and Cortana Analytics Technologies and Microsoft Azure Cloud platform effectively drive the Sales and Marketing processes in the Age of Digital Disruption.
Verona, 28 ottobre
Migliora l'agilità del tuo Marketing: gli Analytics a supporto del business.
Partecipa al workshop organizzato da PORINI in collaborazione con Microsoft, per scoprire le nuove modalità di rafforzamento della strategia marketing dell'azienda moderna tramite gli Analytics.
L'azienda 3A dei fratelli Antonini, distributore ufficiale Nike, che ospiterà l'evento, testimonierà il suo percorso nell'adozione di tecnologie per l'analisi avanzata dei dati e i benefici ottenuti.
Durante il workshop si parlerà di come le tecnologie Microsoft PowerBI, Cortana Analytics e la piattaforma Cloud Microsoft Azure guidano efficacemente i processi di Sales e Marketing nell'era della Digital Disruption.
LOCATION
3A dei Fratelli Antonini, Via Volta, 7 Sottomoscal Affi (VR)
AGENDA
10.00 – 10.15: Registrazione e Welcome Cofee
10.15 – 10.30: Benvenuto a cura di PORINI
10.30 – 11.00: Le soluzioni Microsoft a supporto della Digital Transformation in ambito Marketing&Sales a cura di Microsoft
11.00 – 12.00: Cortana Analytics e PowerSocial Analytics: la ricetta Microsoft a supporto dei decision makers dell'economia digitale
 a cura di Tommaso Pozzi, CEO di Porini Insight
12.00 – 12.30: Power BI e la rivoluzione nel settore del Fashion e della Distribuzione moderna: l'esperienza di 3A dei Fratelli Antonini – NIKE Distributor a cura di a cura di Fabio Antonini, CEO 3A dei Fratelli Antonini
12.30 – 12.45: Q&A
12.45 – 13.30: Light Lunch
https://www.porini.it/wp-content/uploads/2016/10/workshop-B-Ix-sito.jpg
460
820
Porini Marketing Team
https://www.porini.it/wp-content/uploads/2019/09/Logo_Porini-184x110.png
Porini Marketing Team
2016-10-28 10:10:09
2018-03-12 10:01:40
Modern Marketing & Advanced Analytics – October 28, Verona