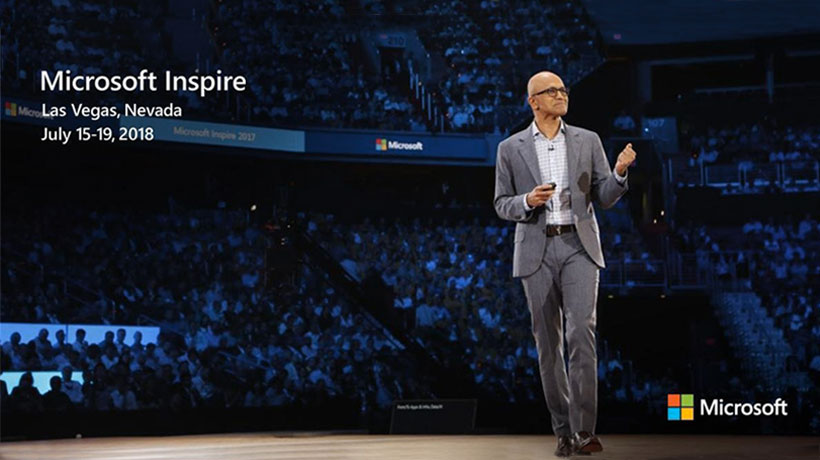 Microsoft Inspire 2018 Las Vegas, July 15/19
3 days of great inspirational things where thousands of partners came to Las Vegas to share the vision of Microsoft for the new fiscal year which is just started and it is announced as one of the most promising and innovative of all the times.
Microsoft CEO Satya Nadella took the stage at the Microsoft Inspire 2018 partner conference to an extended round of applause, before he'd even said a word.
The past year saw Microsoft prioritise the aligning of its sales teams with the needs of partners, with the result being a surge in growth. Executives shared estimates that partners generated nearly US$1 trillion in revenue over the past 12 months through working with Microsoft solutions.
But that's just the start!
Nadella said during his Inspire keynote.
As we look forward, the opportunity for us to serve our customers in this new era of the intelligent cloud and the intelligent edge is far Greater
he told the 16,000 partners gathered at the conference in Las Vegas
I've lived through the client-server, the web, mobile, cloud. But what we're going to see going forward is going to be even more profound.
What follows are five key topics discussed by Nadella during his keynote at Microsoft Inspire 2018.
Intelligent Cloud and Intelligent Edge
Future of Microsoft is to grow with the partners in the new era of the intelligent cloud and the intelligent edge. Infusing everything with AI and leveraging on a powerful cloud computing platform such as azure
Azure
Microsoft's vision for this sort of computing fabric starts with the Azure cloud platform, which now has 54 data center regions (and recently expanded to its first underwater data center).
We are very, very excited about questioning the conventional wisdom of what is a data center,
said Nadella.
Of course, computing needs will go far beyond the data center. Essentially, wherever there is data, compute will migrate to data. And so we are going and taking Azure to Azure Stack, to Azure IoT Edge, to Azure Sphere. This is that one ubiquitous, distributed computing fabric. One programming model that is event-driven, serverless, so you can write an application that truly works across all of this.
Artificial Intelligence
During his Inspire keynote, Nadella placed a special focus on artificial intelligence technologies. Recent advances in AI have been "pretty stunning" in terms of how they're reaching parity with human perception and language capabilities, he said. However,
it's not about celebrating these breakthroughs for Microsoft Research. Our collective objective is to take these breakthroughs and democratize them, with the tooling we create, and with the expertise and the skill set and the services that you provide,
Nadella told partners.
Microsoft 365
Nadella dedicated a portion of his keynote to demonstrating the way his own workday revolves around the Microsoft 365 suite, which includes Office 365 productivity apps and Windows 10. Along with using Outlook.
For partners, Microsoft 365 is a way to help customers transition into a paradigm of "people-centered experiences" rather than device-centered experiences, Nadella said.
Business Applications
Dynamics 365 — Microsoft's combination cloud CRM and ERP system — saw 65 percent growth during the first three quarters of the company's fiscal 2018. That makes it one of Microsoft's fastest-growing businesses, even faster than Office 365. Microsoft executives announced a number of new ways they're working to assist partners with getting involved with Dynamics 365, as well as with other business applications such as Power BI data visualization. During his Inspire keynote, Nadella said that Power BI is "one tool that's changed the culture inside the company," thanks to the way that it helps bring the focus to leading indicators rather than lagging indicators.
When you think about business process in particular, the one thing that is going to be true is more things are going to be digitized. As we see the power of IoT and other tools that are going to be used, every workflow is going to be automated,
Nadella said.
That means we need to have a set of tools that allow us to reduce the total cost of these customizations and automation. And now we've built a complete new app Platform — Power BI, PowerApps and Flow –, which I think represents a tremendous opportunity for everyone in the room. The combination of it is just going to change how applications are built and deployed.
Relive the most interesting moments of  Microsoft Inspire 2018.
See you next year in Las Vegas for Microsoft Inspire 19.
https://www.porini.it/wp-content/uploads/2018/07/Porini-at-Microsoft-Inpsire-2018.jpg
460
820
Porini Marketing Team
https://www.porini.it/wp-content/uploads/2019/09/Logo_Porini-184x110.png
Porini Marketing Team
2018-07-24 14:46:17
2018-07-24 16:41:25
News from Microsoft Inspire 2018