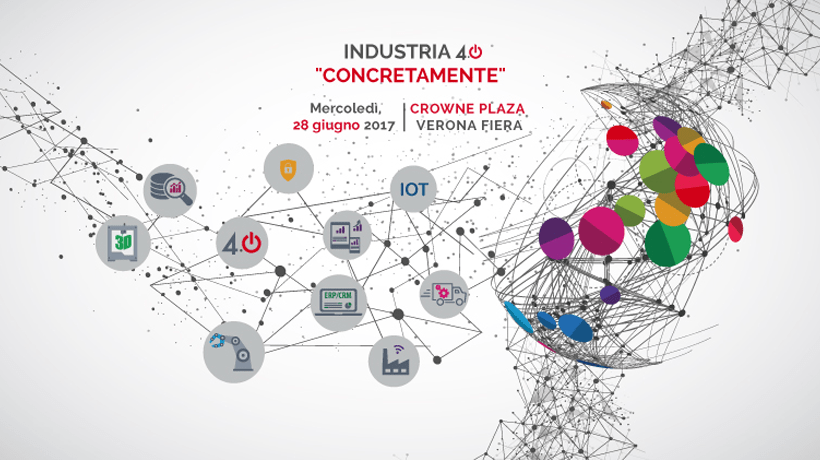 Industria 4.0 Concretamente
The digital transformation of Italian companies and the new business models.
June 28 2017 – Crowne Plaza Verona Fiera
Via Belgio, 16 37135 Verona
PORINI takes part as Tech Partner at the event Industria 4.0 Concretamente, organized by SMC, that will take place at the Crowne Plaza Verona Fiera on 28th of June.
The event includes  the alternation of plenary sessions and specific actions related to the various technologies with the presentation of successful cases, with contributions from academics, entrepreneurs and representatives of industrial and technological players. At the same time, one-to-one encounters will be held at the desks / exhibition areas where the topics of greatest interest can be studied.
Industria 4.0 Concretamente
La trasformazione digitale delle aziende italiane e nuovi modelli di business.
28 giugno 2017 – Crowne Plaza Verona Fiera
Via Belgio, 16 37135 Verona
Porini parteciperà in qualità di Tech Partner a Industria 4.0 Concretamente, evento di SMC che si terrà mercoledì 28 giugno presso il Crowne Plaza Verona Fiera.
Qual è il significato concreto di Industria 4.0 per la crescita e lo sviluppo delle aziende del nostro paese? Quali le tecnologie abilitanti e, soprattutto, come realizzare la loro integrazione in modo da fornire al management gli strumenti per realizzare e gestire i nuovi modelli di business che i nuovi scenari ci impongono, pena la scomparsa dal mercato? 
L'evento gratuito si svolgerà durante tutta la giornata e prevede:
L'alternanza di sessioni plenarie e interventi specifici legati alle varie tecnologie con la presentazione di  casi di successo, con contributi di accademici, imprenditori e rappresentanti di player industriali e tecnologici
Parallelamente si sosterranno incontri one to one presso desk/aree espositive in cui possono essere approfonditi gli argomenti di maggiore interesse
Momenti di networking: coffee break, light lunch e aperitivo finale
Non perdere l'intervento di Tommaso Pozzi, CEO di PORINI Insight:
14:15-14:45: "CRM e Digital Customer Service nell'era della Industry 4.0: Microsoft Dynamics 365, Cortana Intelligence e IoT Services – Il Caso SIAPI"

https://www.porini.it/wp-content/uploads/2017/06/PORINI-Banner-Insutria-4.0-concretamente.png
460
820
Porini Marketing Team
https://www.porini.it/wp-content/uploads/2019/09/Logo_Porini-184x110.png
Porini Marketing Team
2017-06-28 09:00:51
2018-03-12 10:01:40
Industria 4.0 Concretamente