Azure Databricks in a Day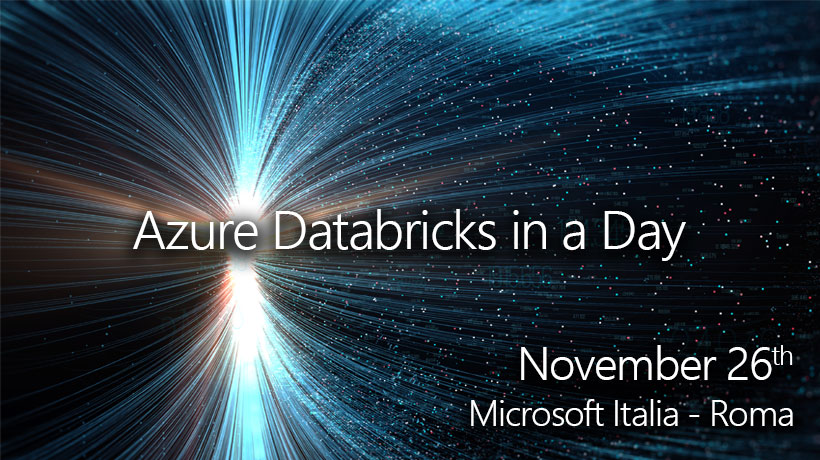 Azure Databricks in a Day – November 26th

Microsoft Italia
Viale Avignone 10 – Roma
Azure Databricks is a fast, simple and collaborative analysis platform that allows the use of Apache Spark and is optimized for Azure.
Azure Databricks, designed in collaboration with the creators of Apache Spark, is deeply integrated with the services and security of Azure, creating a perfect synergy.
The interactive and easy-to-use workspace also encourages collaboration between data scientists, data engineers and business analysts.
A day dedicated to discover Azure Databricks, touching with your hands its versatility through laboratories guided and supported by experts in the field at your disposal.
Trainer: Andrea Paladini

Registration is closed



Microsoft Italia
Viale Avignone 10 – Roma
Azure Databricks è una piattaforma di analisi veloce, semplice e collaborativa ottimizzata per Azure, che consente l'uso di Apache Spark.
Accelera le soluzioni di analisi per Big Data e le soluzioni di intelligenza artificiale con Azure Databricks, un servizio di analisi veloce, facile da usare e collaborativo basato su Apache Spark.
Configura il tuo ambiente Spark in pochi minuti e ridimensionalo automaticamente in modo semplice e rapido. Data scientist, data engineer e business analyst possono collaborare a progetti condivisi in un'area di lavoro interattiva. Applica le tue competenze esistenti con supporto per Python, Scala, R e SQL, oltre a framework per Deep Learning e librerie come TensorFlow, Pytorch e Scikit-learn. L'integrazione nativa con Azure Active Directory (Azure AD) e altri servizi di Azure ti permette di creare soluzioni moderne per data warehouse, Machine Learning e analisi in tempo reale.
Una giornata dedicata a conoscere Azure Databricks, toccando con mano la sua versatilità attraverso laboratori guidati e affiancati da esperti del settore a vostra disposizione.
Agenda
Introduzione ad Azure Databricks
Lab 1: Azure Databricks, set up ed utilizzo
Lab 2: Utilities e primi passi nel maneggiare i dati
Lab 3: ETL con Spark
Lab 4: Machine Learning con Spark
Lab 5: Spark Streaming
Pre-requisiti
Trainer: Andrea Paladini

Registration is closed


https://www.porini.it/wp-content/uploads/2018/11/Porini-Banner-ADIAD.jpg
460
820
Porini Marketing Team
https://www.porini.it/wp-content/uploads/2019/09/Logo_Porini-184x110.png
Porini Marketing Team
2018-11-15 15:22:01
2019-03-15 18:24:52
Azure Databricks in a Day