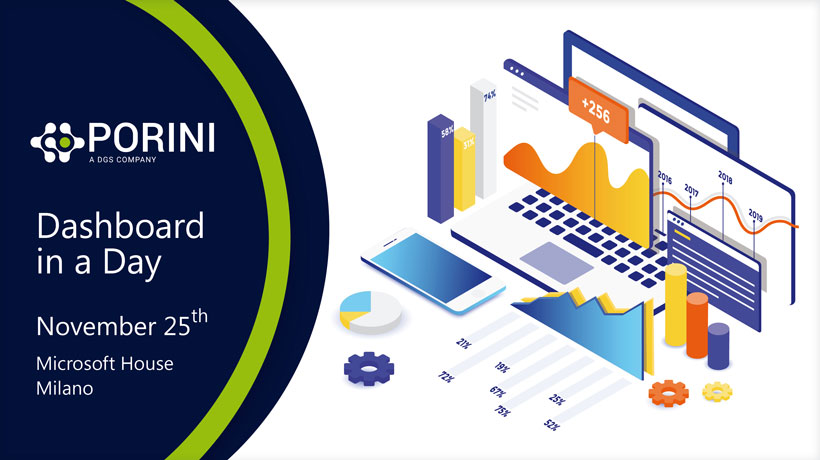 Microsoft House
Viale Pasubio 21 –  Milan
Porini with Microsoft invites you at Dashboard In a Day on November the 25th, a one-day workshop on Power BI potential. The goal of this session is to help you to understand how to analyze data in a exhaustive and convincing way.
Power BI is a Business Analytics service that gives you a unique insight into your company data, with the possibility to monitor your company's health status using live Dashboard, to create rich interactive reports and to access to your data from yours mobile devices.
Speaker: Fabio Caffi – Porini

Microsoft House
Viale Pasubio 21 – Milano
Porini in collaborazione con Microsoft ti invita il 25 Novembre al Dashboard In A Day, un workshop di 1 giorno sulle potenzialità di Power BI. L'obiettivo di questa sessione è aiutarti a capire come analizzare i dati in modo esaustivo e convincente.
Power BI è un servizio di business analytics che ti offre una visione unica dei tuoi dati aziendali, con la possibilità di monitorare lo stato di salute della tua azienda utilizzando dashboard live, creare ricchi report interattivi e accedere ai tuoi dati in movimento, dai tuoi dispositivi mobili.
Alla fine della giornata, i partecipanti avranno sviluppato maggiori conoscenze riguardo ai seguenti temi:
Connessione, importazione e trasformazione dei dati da una varietà di fonti diverse.
Definizione di regole di business e relativi KPIs
Esplorazione di dati con potenti strumenti di visualizzazione
Creazione di reports di impatto
Condivisione di report e dashboard con il proprio team e/o esterni
Ti invitiamo inoltre a portare i tuoi dati in formato CSV o Excel al workshop. Le ultime 2 ore sono dedicate a permetterti di costruire report e dashboard sui tuoi dati con il supporto del tuo istruttore.
Speaker: Fabio Caffi – Porini
https://www.porini.it/wp-content/uploads/2019/10/191125-Dashboard_in_a_Day_News-820x460.jpg
460
820
Porini Marketing Team
https://www.porini.it/wp-content/uploads/2019/09/Logo_Porini-184x110.png
Porini Marketing Team
2019-10-24 14:33:36
2019-10-24 14:40:19
Porini with Microsoft: Dashboard In a Day