Porini with Experis Academy: Business Intelligence Engineer course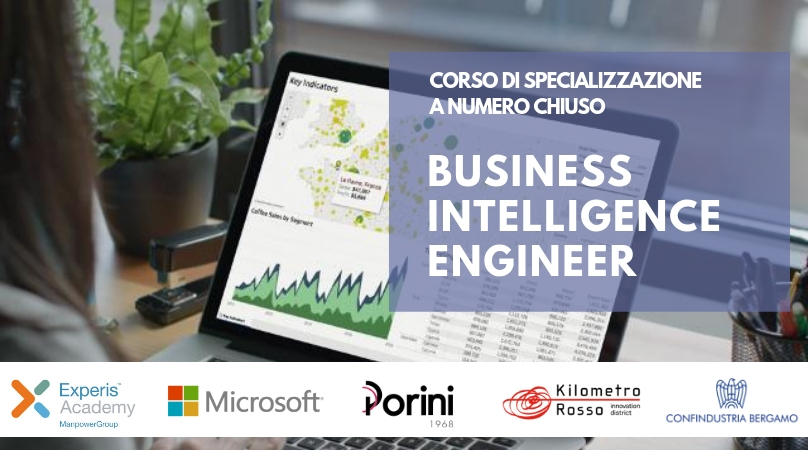 Porini with Experis Academy:
Business Intelligence Engineer Course
PORINI with Experis Academy presents the Business Intelligence Engineer course: the course is dedicated to business analyst and developers with a focus on Business Intelligence, who want to learn how to engineer complete models and architectures related to the world of business data for the improvement of strategic decision-making processes. In consolidating knowledge for the development of Business Intelligence processes, we will also provide information about the cloud and all those tools that are driving data analysis into the future.
Duration: 15 April – 31 May
Frequency: 232 hours – From Monday to Friday
Location: Kilometro Rosso Bergamo

Porini con Experis Academy:
Corso in Business Intelligence Engineer 
PORINI con Experis Academy presenta il corso in Business Intelligence Engineer: il corso, progettato in partnership con Microsoft, è dedicato a business analyst e sviluppatori IT con focus in ambito Business Intelligence, che vogliono imparare ad ingegnerizzare modelli e architetture complete legate al mondo
deii dati aziendali per il miglioramento dei processi decisionali strategici. Nel consolidare le conoscenze per lo sviluppo di processi Business Intelligence, verranno fornite informazioni anche sul cloud e su tutti quegli strumenti che stanno già guidando l'analisi dati verso il futuro.
Insegnamenti principali
Power Bi, SQL server & TSQL, ETL & integration services, modellizzazione multidimensionale, AS & tabular, overview Cloud, Azure, PowerShell, Azure Storage, Data Factory, Python, Databricks, Azure machine learning.
A chi è rivolto
Il corso di specializzazione è rivolto a 15 giovani laureati o laureandi in Economia e Commercio, Statistica,
Ingegneria Informatica, Informatica, Fisica, Matematica o discipline scientifiche affini; ma anche neodiplomati (maturità scientifica, periti informatici, ragionieri con indirizzo informatico) che dimostrino un'ottima preparazione e familiarità con gli strumenti informatici e i linguaggi di programmazione.
Durata del corso: 15 aprile – 31 maggio 2019
Frequenza: 232 ore – Lezioni dal lunedì al venerdì
Sede: Kilometro Rosso Bergamo
https://www.porini.it/wp-content/uploads/2019/03/Business-Intelligence-Engineer_Experis.jpg
450
810
Porini Marketing Team
https://www.porini.it/wp-content/uploads/2019/09/Logo_Porini-184x110.png
Porini Marketing Team
2019-03-11 09:57:46
2019-03-11 09:57:46
Porini with Experis Academy: Business Intelligence Engineer course