Azure Databricks In a Day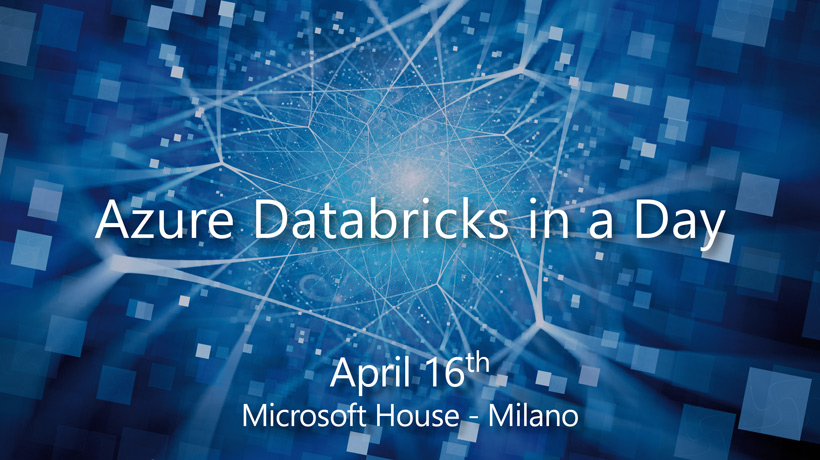 Microsoft House
Viale Pasubio 21 –  Milan
PORINI invites you at Azure Databricks In A Day: Azure Databricks is a fast, simple and collaborative analysis platform that allows the use of Apache Spark and it is optimized for Azure.
Azure Databricks, designed in collaboration with the Apache Spark creators, is deeply integrated with the services and security of Azure, creating a perfect synergy that delivers the best of Databricks and Azure.
Speaker:
Andrea Paladini – Porini

Microsoft House
Viale Pasubio 21 – Milano
Porini ti invita all'Azure Databricks In A Day: Azure Databricks è una piattaforma di analisi veloce, semplice e collaborativa che consente l'uso di Apache Spark ed è ottimizzata per Azure.
Azure Databricks, progettata in collaborazione con i creatori di Apache Spark, è profondamente integrata con i servizi e la security di Azure, creando una sinergia perfetta che offre il meglio di Databricks ed Azure.
L'area di lavoro interattiva e di semplice utilizzo, inoltre, favorisce la collaborazione tra data scientist, data engineer e business analyst.
Una giornata dedicata a conoscere Azure Databricks, toccando con mano la sua versatilità attraverso laboratori guidati e affiancati da esperti del settore a vostra disposizione.
Agenda:
Lab 1: Azure Databricks, set up ed utilizzo
Lab 2: Utilities e primi passi nel maneggiare i dati
Lab 3: ETL con Spark
Lab 4: Machine Learning con Spark
Lab 5: Spark Streaming
Pre-requisiti: Subscription Azure (30 giorni di prova con 170€ di credito incluso: https://azure.microsoft.com/it-it/free/)
Speaker:
Andrea Paladini – Porini
https://www.porini.it/wp-content/uploads/2019/04/190416-Azure_Databricks_in_a_Day_post-820x460.jpg
460
820
Porini Marketing Team
https://www.porini.it/wp-content/uploads/2019/09/Logo_Porini-184x110.png
Porini Marketing Team
2019-04-04 09:48:27
2019-04-04 17:35:42
Azure Databricks In a Day