Porini with Experis Academy: Big Data Analytics course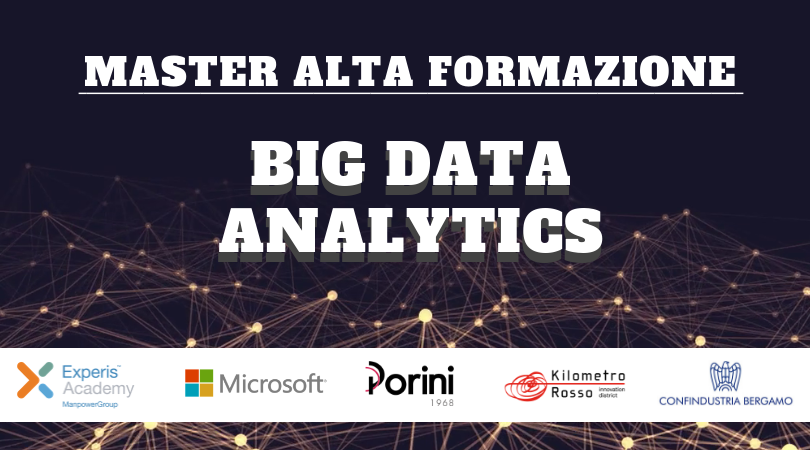 Porini with Experis Academy:
Big Data Analytics Course
PORINI with Experis Academy presents the Big Data Analytics course: the course has the purpose of teaching to work with Big Data, to visualize and analyse data, to work with structured and unstructured data, to interrogate relational databases, to implement Data Warehouse and to process Big Data static and dynamic through the orchestration of Data streams and implementation of Big Data analysis solutions.
Frequency: 200 hours – Weekends ( Friday – Saturday – Sunday)
Location: Kilometro Rosso Bergamo

Porini con Experis Academy:
Master Big Data Analytics
PORINI con Experis Academy presenta il master alta formazione in Big Data Analytics: in una società sempre più connessa, i big data sono diventati una risorsa chiave per capire il mondo che ci circonda. Analizzare ed interpretare opportunamente questo enorme flusso di informazioni è sempre più una necessità condivisa. Il master in Big Data Analytics studiato da Experis Academy in partnership con Microsoft e Porini si pone l'obiettivo di formare dei professionisti capaci di estrarre ed analizzare dati costruendo soluzioni Big Data.
La direzione tecnica e didattica del master è affidata a Microsoft e Porini. La docenza sarà tenuta direttamente dai tecnici delle prestigiose aziende partner, con l'obiettivo di distaccarsi da un approccio accademico alla ricerca di un taglio applicativo fortemente orientato al mercato.
Insegnamenti principali
Il master ha la finalità di insegnare a lavorare con i Big Data, visualizzare ed analizzare dati, lavorare con dati strutturati e non, interrogare database relazionali, implementare Data Warehouse e processare Big Data statici e dinamici grazie all'orchestrazione di flussi dati ed implementazione di soluzioni di analisi Big Data.
A chi è rivolto
Il master è destinato a laureati in Informatica, Ingegneria Informatica, Matematica, Statistica o discipline scientifiche e/o professionisti già attivi nel settore o in settori IT affini, che desiderano far convergere la loro carriera nell'ambito data analytics.
Frequenza: 200 ore – Lezioni il venerdì – sabato – domenica.
Sede: Kilometro Rosso Bergamo
https://www.porini.it/wp-content/uploads/2019/04/big-data-analytics.png
450
810
Porini Marketing Team
https://www.porini.it/wp-content/uploads/2019/09/Logo_Porini-184x110.png
Porini Marketing Team
2019-04-08 10:41:00
2019-04-08 10:41:00
Porini with Experis Academy: Big Data Analytics course