PORINI ERP 365 is Certified for Microsoft Dynamics 365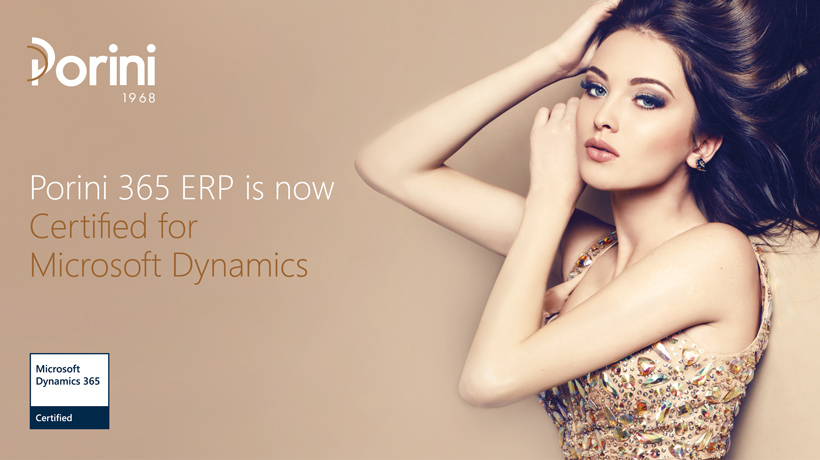 PORINI ERP 365 is Certified for Microsoft Dynamics 365
PORINI proudly announces that its ERP for Dynamics 365 is now Certified for Microsoft Dynamics, which signifies that the solution has met Microsoft Corporation's highest standard for partner-developed software.
Solutions that are Certified for Microsoft Dynamics have demonstrated development quality and compatibility with the Microsoft Dynamics product on which it runs by passing rigorous VeriTest software solution testing for Microsoft Dynamics and are profiled in the Microsoft Partner Solution Profiler tool. In addition, the Microsoft Dynamics partner must have customers who are successfully using the certified solution and are willing to recommend it, be enrolled in a Partner Service Plan with Microsoft, and be a Gold Certified Partner in the Microsoft Partner Program.
For customers, Certified for Microsoft Dynamics helps identify Microsoft Dynamics solutions that have been tested for compatibility, meet high quality standards, and are successfully used by existing customers. This certification represents a significant step in elevating the standard for partner-developed software solutions for industry-specific business applications.
By requiring both the software solution and the partner to meet our highest standards, Microsoft is assuring customers that these certified solutions work with their investments in Microsoft Dynamics.
Thanks to the flexibility of its database and its unique concept, PORINI 365 ERP, based on Microsoft Dynamics 365 for Operations, is ideal for vertically integrated and multi-processes companies in the textile and apparel domain. Discover all the potential of this solution at: https://www.porini.it/erp/
https://www.porini.it/wp-content/uploads/2019/04/190321_ERP_News_sito-820x460.jpg
460
820
Porini Marketing Team
https://www.porini.it/wp-content/uploads/2019/09/Logo_Porini-184x110.png
Porini Marketing Team
2019-04-09 10:50:47
2019-04-09 10:50:47
PORINI ERP 365 is Certified for Microsoft Dynamics 365