PORINI WITH EXPERIS ACADEMY: DATA SCIENCE COURSE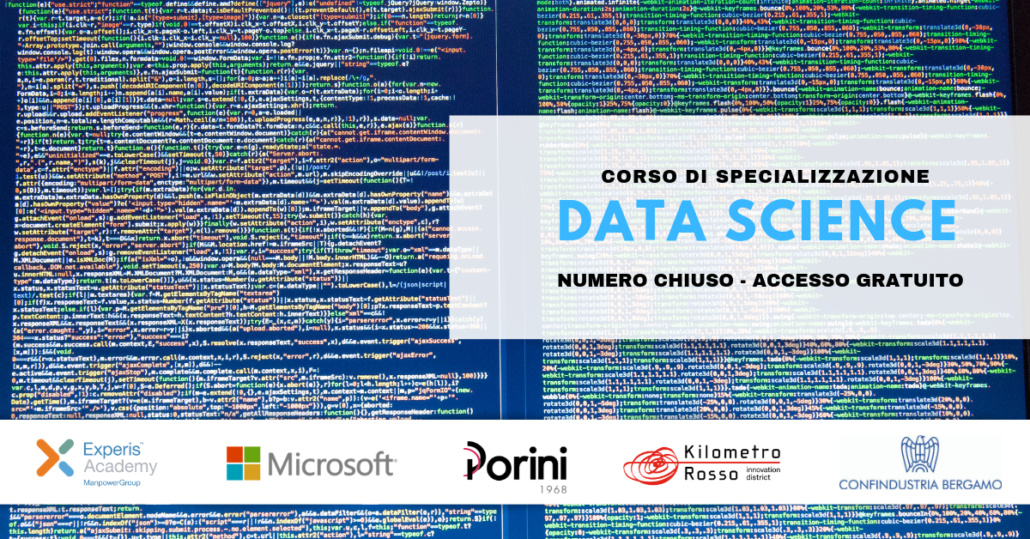 Porini with Experis Academy:
Data Science course
Porini in collaboration with Experis Academy and Microsoft presents the Data Science specialization course.
The course aims to provide in-depth skills on data analysis, machine learning and deep learning in order to understand the mail techniques of Artificial intelligence.
The educational path includes lectures, individual exercises, group project work and use of virtual machines.
Duration: 3st June – 17th July 2019
Frequency: 240 hours – From Monday to Friday
Location: Kilometro Rosso, Bergamo

Porini con Experis Academy:
Corso in Data Science
Porini in collaborazione con Experis Academy e Microsoft presenta il corso di specializzazione in Data Science.
Il corso mira a fornire una preparazione intensiva sull'analisi dei dati, il machine learning e il deep learning finalizzata alla comprensione dei principali meccanismi di intelligenza artificiale.
La didattica prevede lezioni frontali, esercitazioni individuali, project work di gruppo e l'utilizzo di macchine virtuali.
Argomenti principali
Data Base- SqlServer TSql, Cloud- Azure, PowerBI, R language, Machine Learning Supervisionato, Machine Learning Non Supervisionato, Clustering & Recommendation, Predictive Maintenance, Azure Machine Learning, Big data con RevoScaleR, Linguaggio Python, Deep Learning Computer vision, Time Series Classica e Deep Learning, Reinforcement learning, Analizzare i Big data con Databricks.
A chi è rivolto
Il corso di specializzazione è rivolto a 15 giovani o adulti in cerca di occupazione e in possesso di laurea in Matematica, Ingegneria, Informatica, Informatica, Fisica, Statistica.
Durata del corso: 3 giugno – 17 luglio 2019
Frequenza: 240 ore – Lezioni dal lunedì al venerdì – full time
Sede: Kilometro Rosso, Bergamo
https://www.porini.it/wp-content/uploads/2019/05/Copia-di-DATA-SCIENCE_grafica.png
628
1200
Porini Marketing Team
https://www.porini.it/wp-content/uploads/2019/09/Logo_Porini-184x110.png
Porini Marketing Team
2019-05-10 14:21:07
2019-05-10 14:21:07
PORINI WITH EXPERIS ACADEMY: DATA SCIENCE COURSE