Porini at ITDAY 2019 – Turin, 28th June 2019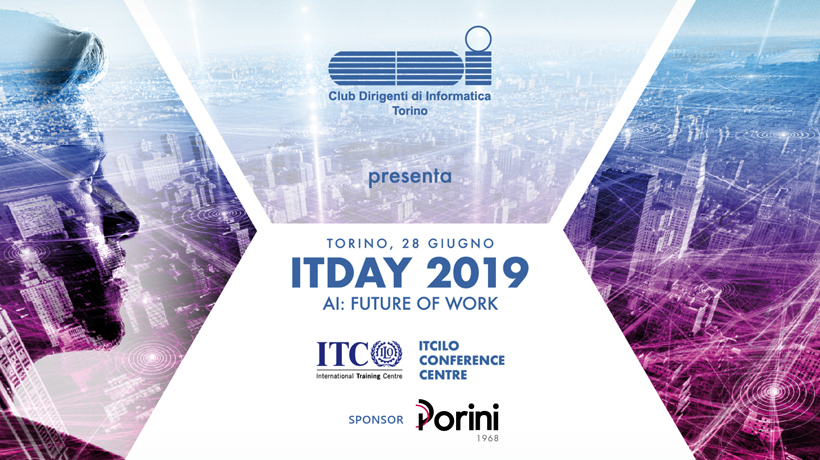 28th June 2019, from 14.00 to 19.00
TC ILO – Viale Maestri del Lavoro 10, Turin
Porini participates as a sponsor at "ITday 2019" in Turin, an event promoted and organized by the CDI (Club Executives of Informatics) formed by professionals of the Information and Communication Technology of the Industrial Union of Turin whose objective is to share knowledge and skills in the IT field.
The event will be an opportunity to discuss about IT world in a different way through the stories of some protagonists who, investing in creativity, competence and technology, have found new spaces of collaboration and business.
This year the IT DAY will deal with AI topic, with the aim of creating knowledge, awareness and make our territory a smart ecosystem able to evolve, making the most of the change even from an ethical point of view.

28 giugno 2019, dalle 14.00 alle 19.00
TC ILO – Viale Maestri del Lavoro 10, Turin
Porini partecipa in qualità di sponsor all' "ITday 2019" a Torino, evento promosso e organizzato dal CDI (Club dirigenti di informatica) formato dai Professionisti dell'Information and Communication Technology dell'Unione Industriale di Torino il cui obiettivo è quello di condividere conoscenze e competenze in ambito IT.
L'evento sarà occasione per raccontare il mondo dell'IT in un modo diverso attraverso le storie di alcuni protagonisti che, investendo su creatività, competenza e tecnologia, hanno trovato nuovi spazi di collaborazione e business.
Quest'anno l'IT DAY affronterà l'AI, con l'intento di creare conoscenza, consapevolezza e contribuire a rendere il nostro territorio un ecosistema intelligente capace di evolvere, sfruttando al meglio il cambiamento anche da un punto di vista etico.
https://www.porini.it/wp-content/uploads/2019/06/190628-ITDay_Torino_News-820x460.jpg
460
820
Porini Marketing Team
https://www.porini.it/wp-content/uploads/2019/09/Logo_Porini-184x110.png
Porini Marketing Team
2019-06-10 10:15:54
2019-09-02 14:22:57
Porini at ITDAY 2019 – Turin, 28th June 2019