PORINI WITH EXPERIS ACADEMY: DATA ENGINEER COURSE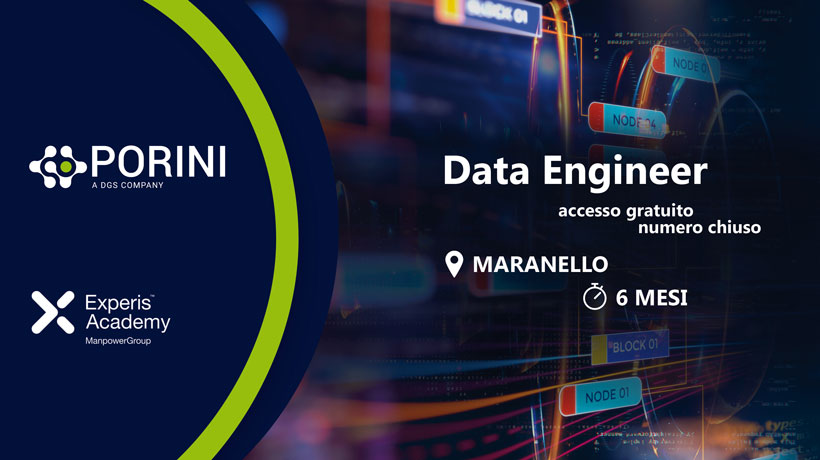 Porini with Experis Academy:
Data Engineer course
Porini in collaboration with Experis Academy presents the Data Engineer specialization course.
The educational path aims to provide an intensive preparation on data management and analysis, taking care of both data engineering and data analysis aspects.
The course includes lectures, individual exercises, group project work and use of virtual machines.
Duration: 23rd September – 31st October 2019
Frequency: 6 weeks – From Monday to Friday – full time
Location: Experis Academy, Maranello (MO)

Porini con Experis Academy:
Corso in Data Engineer
Porini in collaborazione con Experis Academy presenta il corso di specializzazione in Data Engineer.
II percorso formativo mira a fornire una preparazione intensiva sulla gestione e analisi dati, curando sia gli aspetti di data engineering (ingestion, moving, storage e presentation) che di data analysis.
La didattica prevede lezioni frontali, esercitazioni individuali e project work di gruppo, utilizzo di macchine virtuali.
Argomenti principali
Programmazione a oggetti, Azure Data Factory V2, Cosmos DB, Azure Functions, Big Data Storage in Azure (Data Lake Store, Blob, Sql, Sql dwh), Databricks ecosystem con focus sui linguaggi scala/Python, Sql azure database e T-Sql, Azure Analysis Services e Dax Power BI.
A chi è rivolto
Il corso di specializzazione è rivolto a 15 giovani laureati o laureandi in Matematica, Informatica, Fisica, Statistica, Data Science, Scienze e tecnologie informatiche, ingegneria informatica, biomedica e gestionale.
Durata del corso: 23 settembre – 31 ottobre 2019
Frequenza: 6 settimane – Lezioni dal lunedì al venerdì – full time
https://www.porini.it/wp-content/uploads/2019/09/190916-Data_engi_Experis_NL_News-820x460.jpg
460
820
Porini Marketing Team
https://www.porini.it/wp-content/uploads/2019/09/Logo_Porini-184x110.png
Porini Marketing Team
2019-09-19 11:03:46
2019-10-18 10:48:03
PORINI WITH EXPERIS ACADEMY: DATA ENGINEER COURSE