PORINI WITH EXPERIS ACADEMY: DATA SCIENCE COURSE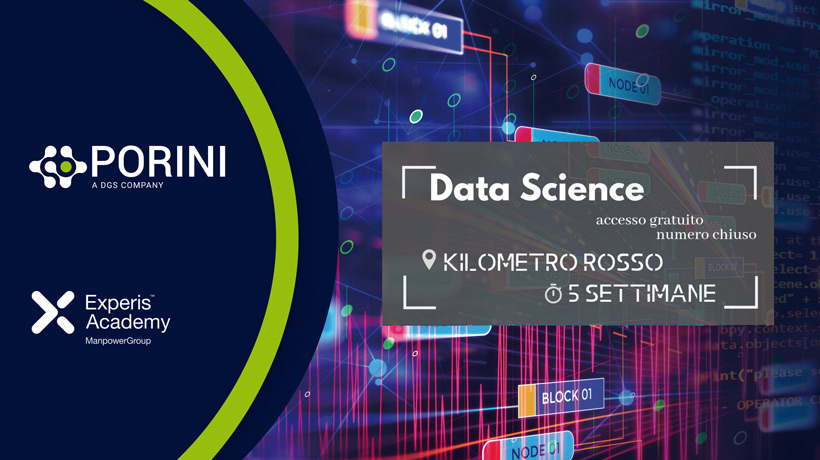 Porini with Experis Academy:
Data Science course
Porini in collaboration with Experis Academy presents the Data Science specialization course.
The educational path aims to provide in-depth skills on data analysis, machine learning and deep learning in order to understand the main techniques of Artificial intelligence.
The course includes lectures, individual exercises, group project work and use of virtual machines.
Duration: 1st October – 8th November 2019
Frequency: 5 weeks – From Monday to Friday – full time
Location: Kilometro Rosso, Bergamo

Porini con Experis Academy:
Corso in Data Science
Porini in collaborazione con Experis Academy presenta il corso di specializzazione in Data Science.
Il percorso formativo mira a fornire una preparazione intensiva sull'analisi dati, machine learning e deep learning finalizzata alla comprensione dei meccanismi di intelligenza artificiale. Acquisirai un'approfondita conoscenza teorica sui principi che ruotano attorno alla sicurezza di rete nonché degli strumenti e delle configurazioni disponibili, ma acquisirai anche tutte le competenze pratiche per operare nel design, nell'implementazione e nel supporto della sicurezza delle reti informatiche.
Il corso prevede lezioni frontali, esercitazioni individuali , project work di gruppo ed utilizzo di macchine virtuali.
Argomenti principali
SQL, Power Bi, Linguaggio R e Python, Machine Learning, Advanced Machine Learning, Metodi di regolarizzazione, Deep Learning, Computer vision, Time series, NLP, Reinforcement learning.
A chi è rivolto
Il corso di specializzazione è rivolto a 15 giovani o adulti in cerca di occupazione e in possesso di laurea in Matematica, Ingegneria Informatica, Informatica, Fisica, Statistica.
Durata del corso: 1 ottobre – 8 novembre 2019
Frequenza: 5 settimane – Lezioni dal lunedì al venerdì – full time
Sede: Kilometro Rosso, Bergamo
https://www.porini.it/wp-content/uploads/2019/09/190916-Data_Science_Experis_News_NL-820x460-1.jpg
460
820
Porini Marketing Team
https://www.porini.it/wp-content/uploads/2019/09/Logo_Porini-184x110.png
Porini Marketing Team
2019-09-17 10:54:29
2019-10-18 11:28:53
PORINI WITH EXPERIS ACADEMY: DATA SCIENCE COURSE