Transform your product and services with IoT, Cloud Computing and Big Data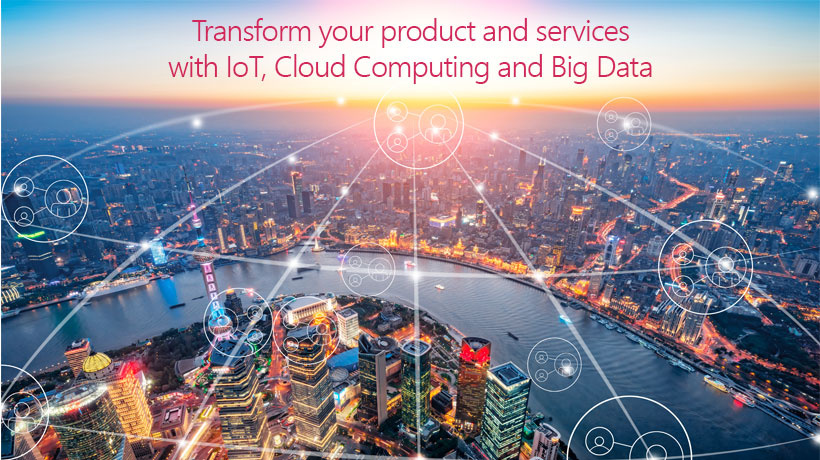 Transform your product and services
with IoT, Cloud Computing and Big Data
IoT, cloud computing and Big Data enable a new business model that overlaps product and service concepts.
The fourth industrial revolution offers organizations unlimited opportunities to acquire new customers, create new business models, open up new markets and introduce new products and services. Digital consumers, on the other hand, are demanding increasingly personalised products and services. The production process is therefore evolving towards a smart approach, characterized by extreme connectivity and maximum flexibility. The supply chain is being replaced by a digital ecosystem that brings together all the players in the chain, with faster and faster deliveries and products that are increasingly tailored to individual customers.
The potential of the Internet of Things and the analysis of the data it generates are the major business allies on this front, as they allow companies to monitor both operational performance and customer preferences. Analyzing the data and relationships between smart objects, businesses and people provides the driving force to accelerate innovation and enable new business models.

Trasforma il tuo prodotto e i tuoi servizi
grazie all'IoT, al Cloud Computing e ai Big Data
IoT, cloud computing e Big Data abilitano un nuovo modello di business che sovrappone i concetti di prodotto e di servizio.
La quarta rivoluzione industriale offre alle organizzazioni opportunità illimitate per acquisire nuovi clienti, creare nuovi modelli di business, aprirsi a nuovi mercati e introdurre nuovi prodotti e servizi. I consumatori digitali, dal canto loro, chiedono prodotti e servizi sempre più personalizzati. Il processo produttivo si sta quindi evolvendo verso un approccio smart, caratterizzato da connettività estrema e massima flessibilità. La supply chain viene sostituita da un ecosistema digitale in cui confluiscono tutti gli attori della catena, le consegne sono sempre più rapide e i prodotti sempre più su misura dei singoli clienti.
Il potenziale dell'Internet of Things e dell'analisi dei dati da essa generati sono i maggiori alleati del business su questo fronte, poiché permettono alle aziende di monitorare sia le prestazioni operative che le preferenze dei clienti. Dall'analisi dei dati e delle relazioni che si attivano tra gli smart object, le imprese e le persone deriva la forza trainante in grado di accelerare l'innovazione e abilitare nuovi modelli di business.
È in questo scenario che si sta passando da una produzione di massa standardizzata a una produzione intelligente capillarmente personalizzata. Oltre alla estrema personalizzazione, uno degli elementi che sempre più spesso rappresenta un valore aggiunto per il cliente è la capacità dell'azienda di offrire, insieme al prodotto, anche un servizio altrettanto personalizzato. Siamo di fronte a una dicotomia che vede crescere, da un lato, quella che viene definita servitizzazione dell'industria e, dall'altro, l'industrializzazione dei servizi.
Prodotto, servizi, IoT: è l'era del product-as-a-service
È giunta quindi l'era del product-as-a-service intelligente abilitato dalla Internet of Things che richiede un nuovo approccio alla produzione e alla vendita, che coinvolge cliente e fornitore e associa il concetto di servizio a quello del prodotto. Offrire ai consumatori – in modo rapido e puntuale – un prodotto altamente customizzato e as-a-service abilitato all'IoT significa giocoforza alzarne il valore percepito, aumentare la fidelizzazione, costruire una solida relazione con l'utente e, dunque, migliorare le performance del business indirizzando la relazione con il cliente verso la co-creazione di un valore comune. L'implementazione di tale modello richiede una trasformazione impegnativa del business, che impatta sull'intera organizzazione ma che garantisce benefici significativi all'azienda e vantaggi concreti per il cliente. Quest'ultimo acquista esattamente ciò che vuole, come lo vuole e quando lo vuole; le aziende riducono l'investimento e possono offrire prezzi più competitivi a tutto vantaggio dei consumatori, chiudendo così un cerchio virtuoso che si autoalimenta. Secondo il modello di vendita tradizionale, il produttore stabilisce un prezzo fisso, che può differire da quanto il cliente è disposto a pagare, mentre con il prodotto-as-aservice consente una maggiore flessibilità, prezzi più personalizzati e concorrenziali.
IoT, cloud e analisi dei dati abilitano la service transformation
Il fenomeno di service transformation modifica anche l'ecosistema di fornitura, che mira a tessere una relazione di lunga durata tra il venditore/fornitore e il cliente. Questo dialogo che punta a durare nel tempo è abilitato da IoT, cloud e analisi dei dati. L'Internet of Things e il Cloud Computing fanno sì che i prodotti possano essere connessi – alla rete e tra di loro – e possano così scambiarsi informazioni. Questi dati di per sé, però, non fornirebbero alcun valore aggiunto al processo se non adeguatamente analizzati. Ed ecco quindi che entra in scena il terzo elemento, ovvero le analytics: le analisi dei dati svolgono infatti un ruolo centrale in relazione al feedback informativo proveniente dal consumatore verso il produttore e riguardante lo stato del bene acquistato, base di partenza per la fornitura di un servizio ad alto valore aggiunto.
https://www.porini.it/wp-content/uploads/2018/11/Porini-Banner-transform-your-product.jpg
460
820
Porini Marketing Team
https://www.porini.it/wp-content/uploads/2019/09/Logo_Porini-184x110.png
Porini Marketing Team
2018-11-26 16:59:39
2018-11-27 14:01:32
Transform your product and services with IoT, Cloud Computing and Big Data