Supply chain manager 4.0: advanced tools for demand forecasting in the retail sector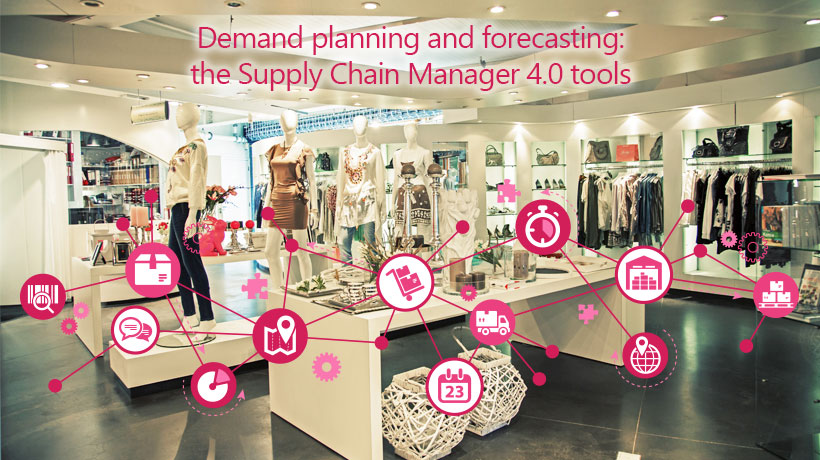 Demand planning and forecasting:
the Supply Chain Manager 4.0 tools
Supply chain manager 4.0: advanced tools for demand forecasting in the retail sector
In recent years, the digital revolution has also involved retail in its process of radical change. The sector has become multichannel, liquid and deeply customer-centric, with an informed and demanding buyers audience like never before. Today's customers expect more and more personalized products from retailers. And they want them fast. That's why supply chain managers 4.0 need to operate in an accelerated marketplace with ever-changing balances. A competitive scenario full of challenges, in which technology offers to those who know how to seize all the tools necessary for the success of the business. The catalyst for all these changes is the flow of Big Data generated continuously by the digital world.

Demand planning and forecasting:
gli strumenti del Supply Chain Manager 4.0

Supply chain manager 4.0: strumenti avanzati per la previsione della domanda nel retail
La digital revolution, negli ultimi anni, ha coinvolto nel suo processo di radicale cambiamento anche il retail. Il settore è diventato multicanale, liquido e profondamente customer-centrico, a fronte di una platea di acquirenti informati ed esigenti come mai prima d'ora. I clienti di oggi, infatti, si aspettano dai rivenditori prodotti sempre più personalizzati. E li vogliono in fretta. Ecco dunque che i supply chain manager 4.0 si trovano a operare in un mercato accelerato caratterizzato da equilibri in mutamento costante. Uno scenario competitivo e carico di sfide, in cui però la tecnologia offre a chi li sa cogliere tutti gli strumenti utili per la buona riuscita del business. L'elemento catalizzatore di tutti questi cambiamenti è rappresentato dal flusso di Big Data generati senza soluzione di continuità dal mondo digitale.
Prevedere la domanda per garantire la customer satisfaction
Garantire l'approvvigionamento non basta più: la supply chain ai tempi dell'economia digitale e dell'Industria 4.0 deve dimostrare di essere altamente reattiva e resiliente per soddisfare una domanda estremamente volatile. E per riuscirci è chiamata a mettere in atto una strategia di demand planning e forecasting che vada ben oltre alla tradizionale stima delle vendite. Si tratta di impiegare metodi di analisi e previsione statistica per processare la grande quantità di informazioni provenienti sia dall'interno che dall'esterno dell'organizzazione attraverso tecnologie di apprendimento automatico in grado di decodificare una serie di variabili che influiscono sulla domanda. I dati disponibili in un mondo dominato dalla Internet of Things e disseminato di sensori e smart object, infatti, provengono da più fronti e possono parlare di condizioni meteo come di traffico, di comportamento dei consumatori sulle piattaforme social come di particolari contingenze socio-economiche o ancora di variazioni di mercato e di andamento delle vendite. Il supply chain manager 4.0 deve poter navigare nel Mare Magnum di queste informazioni e tracciare la rotta giusta per prendere le decisioni più efficaci relative alle operazioni di inventario e produzione, con l'obiettivo di approdare a un risultato di customer satisfaction eccellente. E perché questo possa avvenire è necessario che tutti gli attori della catena diventino dei nodi attivi nel processo di scambio delle informazioni, protesi in maniera olistica al raggiungimento di un forecast collaborativo.
Demand planning e forecasting: gli strumenti del Supply chain manager 4.0
Le tecnologie di analytics che consentono di gestire e analizzare i Big Data tramite algoritmi avanzati possono quindi reinventare radicalmente la cultura e gli approcci della vendita al dettaglio. Per supportare il processo decisionale in tempo reale e piegare a proprio favore l'estemporaneità del mercato attuale, è necessario puntare su strumenti di demand planning e forecasting che siano semplici da utilizzare, ma al contempo evoluti. Dal punto di vista del supply chain manager 4.0, una strategica previsione della domanda aiuta a perfezionare l'inventario in base ai flussi di domanda, massimizzare la redditività di ogni canale o prodotto di vendita, ridurre la necessità di scorte, gestire efficacemente le reti di distribuzione e ottimizzare gli investimenti. Tutti miglioramenti che, in ultima analisi, si traducono in una maggiore soddisfazione del cliente e, in definitiva, una maggiore redditività per il business. In questo senso Gartner parla di algorithmic retailing: processare i Big Data con analisi avanzate attraverso una struttura di vendita sempre più complessa e dettagliata per offrire un'esperienza cliente efficiente, flessibile e allo stesso tempo unificata.
https://www.porini.it/wp-content/uploads/2018/11/Porini-banner-supplychain-retail.jpg
460
820
Porini Marketing Team
https://www.porini.it/wp-content/uploads/2019/09/Logo_Porini-184x110.png
Porini Marketing Team
2018-11-29 12:30:00
2018-11-29 12:30:00
Supply chain manager 4.0: advanced tools for demand forecasting in the retail sector