Artificial Intelligence in a Day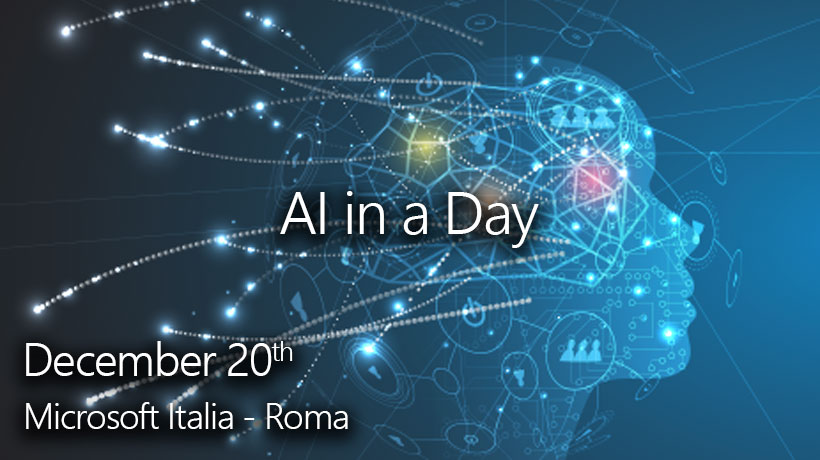 Artificial Intelligence in a Day – December 2oth

Microsoft Italia
Viale Avignone 10 – Roma
Artifical Intelligence is a branch of computer science that aims to create intelligent machines. It has become an essential part of the technology industry. The research associated with artificial intelligence is highly technical and specialized.
The main problems that artificial intelligence tries to solve include programming computers for certain traits such as:
Knowledge
Reasoning
Problem solving
Ability to control and move objects
Perception
Learning
Planning
Azure AI Platform allows you to create next-generation applications with artificial intelligence capabilities for all developers and scenarios, providing dedicated development environments and APIs.
A day dedicated to get to know Azure AI Platform and the Artificial Intelligence main models, touching its applications through guided laboratories and supported by experts in the field at your disposal.
Details
Introduction to AI Fundamentals
Lab 1: Azure Cognitive Service
Lab 2: Create and train a model from scratch with Keras
Lab 3: Azure Bot Service
Pre-requisites for carrying out the Labs
Facilitator
Omar Parrini – Porini Education
Registration is closed

Microsoft Italia
Viale Avignone 10 – Roma
Artifical Intelligence è una branca dell'informatica che mira a creare macchine intelligenti. È diventato una parte essenziale dell'industria tecnologica. La ricerca associata all'intelligenza artificiale è altamente tecnica e specializzata.
I problemi principali che l'intelligenza artificiale cerca di risolvere includono la programmazione di computer per determinati tratti come:
Knowledge
Reasoning
Problem solving
Abilità di controllare e muovere oggetti
Perception
Learning
Planning
Azure AI Platform permette di creare applicazioni di nuova generazione con le funzionalità di intelligenza artificiale per tutti gli sviluppatori e gli scenari, mettendo a disposizioni ambienti di sviluppo e API dedicate.
Una giornata dedicata a conoscere Azure AI Platform ed i principali modelli di Artificial Intelligence, toccando con mano le sue applicazioni attraverso laboratori guidati e affiancati da esperti del settore a vostra disposizione.
Dettagli
Introduzione ai fondamenti di AI
Lab 1: Azure Cognitive Service
Lab 2: Creare e allenare modello from scratch con Keras
Lab 3: Azure Bot Service
Pre-requisiti per lo svolgimento dei Lab
Subscription Azure (30 giorni di prova con 170€ di credito incluso: https://azure.microsoft.com/it-it/free/)
Anaconda (https://www.anaconda.com/download/) per l'utilizzo di Python (versione non superiore ala 3.6) o in alternativa possibilità di accedere, in remote desktop, ad una Macchina Virtuale Azure già configurata e messa a disposizione per la giornata da Porini
Facilitator
Omar Parrini – Porini Education
Registration is closed
https://www.porini.it/wp-content/uploads/2018/12/Porini-banner-AIIAD.jpg
460
820
Porini Marketing Team
https://www.porini.it/wp-content/uploads/2019/09/Logo_Porini-184x110.png
Porini Marketing Team
2018-12-03 13:03:13
2019-03-15 18:29:42
Artificial Intelligence in a Day