Porini with Experis Academy for Big Data: discover the course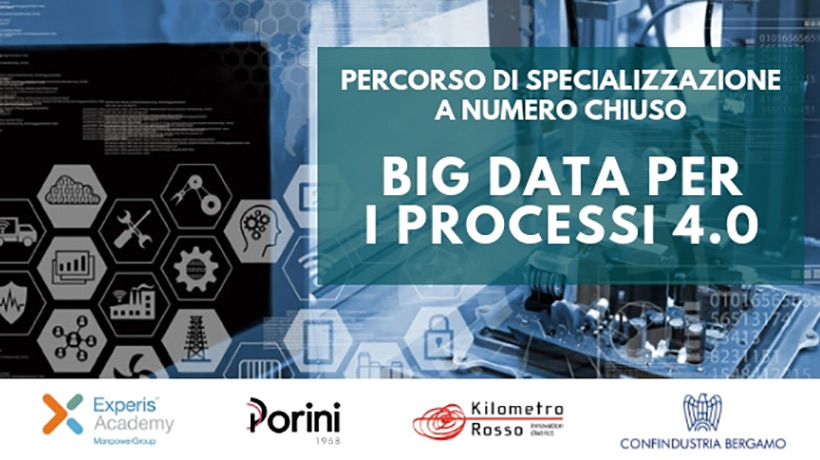 Porini with Experis Academy:
Big Data Specialization Course
PORINI with Experis Academy presents the specialization course in Big data for the 4.0 Processes that aims to prepare experts able to carry out data analysis activities aimed at optimizing the automated processes for the industry 4.0. The aim of the course is to provide participants with technical expertise on the main data analysis tools. Teaching includes: frontal lessons, individual and group exercises, comparison and case studies.
Duration: 25 February – 5 April 2019
Frequency: 240 ore – From Monday to Friday
Location: Bergamo

Porini con Experis Academy:
Corso di Specializzazione in Big Data 
PORINI con Experis Academy presenta il corso di specializzazione in Big Data per i Processi 4.0 che mira a preparare esperti in grado di svolgere attività di analisi dati finalizzata all'ottimizzazione dei processi automatizzati per l'industry 4.0. Obiettivo del corso è fornire ai partecipanti competenze tecnico pratiche sui principali strumenti di analisi dati. La didattica prevede: lezioni frontali, esercitazioni individuali e di gruppo, confronto e casi aziendali.
Insegnamenti Principali
SQL, overview Azure, modellizzazione multidimensionale, integration services, AS tabular, R language & fondamenti di Statistica con R, regressione, classificazione, Python language, Azure machine learning Studio, Big Data con R (RevoScaleR), Big Data con DataBricks, Predictive Maintenance, Clustering & Recommendation.
A chi è rivolto
Il corso di specializzazione è rivolto a 15 giovani o adulti in cerca di occupazione e in possesso di laurea triennale e magistrale in Informatica, Ingegneria Informatica, Fisica, Matematica, Statistica. E' richiesta una buona conoscenza della lingua inglese.
Durata del corso: 25 febbraio – 5 aprile 2019
Frequenza: 240 ore – Lezioni dal lunedì al venerdì
Sede: Bergamo
Come candidarsi
Per candidarsi è necessario inviare CV e lettera di presentazione all'indirizzo academy.tech@it.experis.com entro il 18 febbraio 2019.
https://www.porini.it/wp-content/uploads/2019/02/Master-Big-Data.jpg
460
820
Porini Marketing Team
https://www.porini.it/wp-content/uploads/2019/09/Logo_Porini-184x110.png
Porini Marketing Team
2019-02-07 11:41:12
2019-02-07 12:08:17
Porini with Experis Academy for Big Data: discover the course