Strategic agreement between DGS and Porini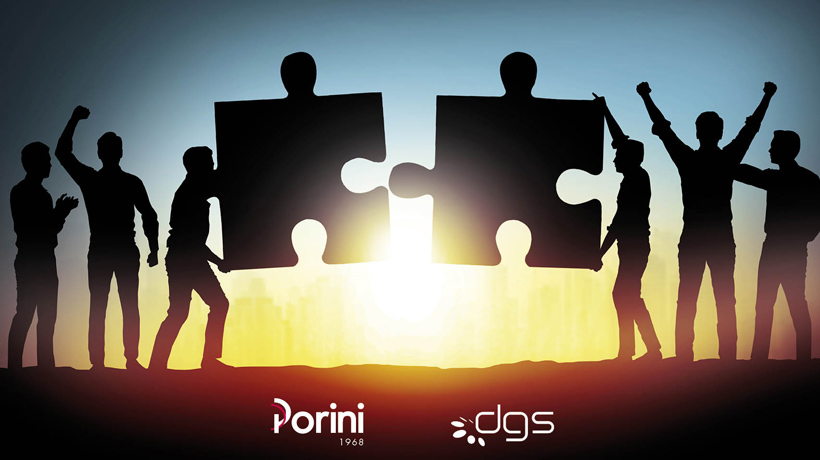 Strategic agreement
between DGS and Porini
DGS SpA and Porini Srl have signed a strategic collaboration agreement to face together the challenges imposed by the technological revolution in Manufacturing.
The agreement, which provides for the entry of DGS in Porini with a minority stake, establishes the start of an ambitious industrial plan between the two groups that allows both the sharing of their offer portfolios and the development of a new solution of Extended Supply Chain consistent with Industry 4.0 paradigms and developed on the Microsoft Cloud platform.

Accordo strategico
tra DGS e Porini

DGS SpA e Porini Srl hanno siglato un accordo strategico di collaborazione per affrontare insieme le sfide imposte dalla rivoluzione tecnologica sul mercato del Manufacturing.
L'accordo, che prevede l'ingresso di DGS in Porini con una quota di minoranza, sancisce l'avvio di un ambizioso piano industriale tra i due gruppi che consente in prima battuta sia la condivisone dei relativi portafogli di offerta che lo sviluppo di una nuova soluzione di Extended Supply Chain coerente con i paradigmi Industry 4.0 e sviluppata sulla piattaforma Cloud di Microsoft.
"Questo accordo – commenta l'AD di DGS, Vincenzo Fiengo – rafforza l'ingresso del gruppo DGS nel mercato Manufacturing già iniziato con altre operazioni e rilancia ulteriormente il nostro rapporto con Microsoft di cui Porini è uno dei partner di riferimento sia sul mercato nazionale che internazionale. La piattaforma di Extended Supply Chain integrerà i più innovativi modelli di Artificial Intelligence e Machine Learning basati sul cloud di Microsoft e si combinerà alle soluzioni ERP, CRM e ANALITYCS per completare il quadro dell'offering verticale su questo mercato."
"L'accordo e la partnership con DGS – commenta il CEO, di Porini Lorenzo Sala – consentirà a Porini di estendere il proprio mercato di riferimento posizionando il proprio portfolio di offerta e le proprie soluzioni anche sul mercato di fascia 'Enterprise', oltre che estendere il portafoglio DGS anche al segmento storicamente core per Porini del 'Corporate & Small Enterprise'. Le competenze distintive di DGS in ambito Supply Chain unite ai centri di eccellenza di Porini sulle 'Microsoft Platform' consentiranno poi di ingegnerizzare una serie di soluzioni di avanguardia destinate al settore Manufacturing che ci permetteranno di accelerare la crescita del gruppo anche sui mercati internazionali."
Contatti:
Porini srl
marketing@porini.it
www.porini.it
DGS spa
comunicazione@dgsspa.com
 www.dgsspa.com
https://www.porini.it/wp-content/uploads/2019/02/1901204_News_Comunicato_stampa-820x460.jpg
460
820
Porini Marketing Team
https://www.porini.it/wp-content/uploads/2019/09/Logo_Porini-184x110.png
Porini Marketing Team
2019-02-04 10:03:13
2019-02-04 10:03:13
Strategic agreement between DGS and Porini