Porini Education: Machine Learning with R course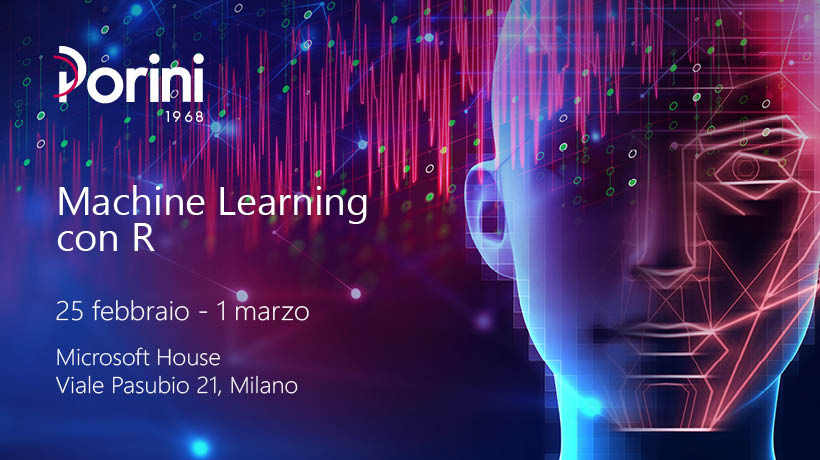 Microsoft House
Viale Pasubio 21, Milan
PORINI organizes Machine Learning with R course: attending the course you will learn the theoretical basis of Machine Learning, a branch of artificial intelligence that automates the construction of analytical models, and you'll be able to communicate the results through visualization tools (Power BI) and making the product usable to third parties through Azure Machine Learning Studio.
At the end of the course you will get the skills most requested by the world of today's work: you'll be able to make automatic and more economical analysis processes of business data and you can create ad hoc reporting to guarantee your company reality a clear advantage over competition.
Date: 25-26-27-28 February and 1 March
Location: Microsoft House, Viale Pasubio 21 Milan
Teacher: Andrea Barone

Microsoft House
Viale Pasubio 21, Milano
PORINI organizza il corso di Machine Learning con R della durata complessiva di 5 giorni, grazie al quale apprenderai le basi teoriche di Machine Learning, branca dell'intelligenza artificiale che automatizza la costruzione di modelli analitici, e sarai in grado di comunicarne i risultati tramite strumenti di visualizzazione (Power BI) oltre a rendere il prodotto fruibile a terzi tramite Azure Machine Learning Studio.
Al termine del corso otterrai le competenze più richieste dal mondo del lavoro di oggi: saprai rendere automatici e più economici i processi di analisi di dati aziendali e potrai creare reportistica ad hoc per garantire alla tua realtà aziendale un netto vantaggio sulla concorrenza.
Il corso ha la durata di 5 giorni e al termine delle lezioni riceverai un Attestato di Frequenza che certifica il percorso seguito e la dispensa che comprende le presentazioni e il codice utilizzato durante il corso.
Requisiti: Conoscenza base di almeno un linguaggio di programmazione strutturato (es. C) o linguaggio di analisi (es. Matlab), conoscenza base di statistica, analisi matematica e analisi numerica. È necessario portare il proprio PC.
Data: 25-26-27-28 febbraio e 1 marzo
Location: Microsoft House Viale Pasubio 21, Milano
Docente: Andrea Barone
https://www.porini.it/wp-content/uploads/2019/01/190225_Corso_Machine_Learning_News-820x460.jpg
460
820
Porini Marketing Team
https://www.porini.it/wp-content/uploads/2019/09/Logo_Porini-184x110.png
Porini Marketing Team
2019-01-30 11:11:08
2019-03-15 18:45:48
Porini Education: Machine Learning with R course