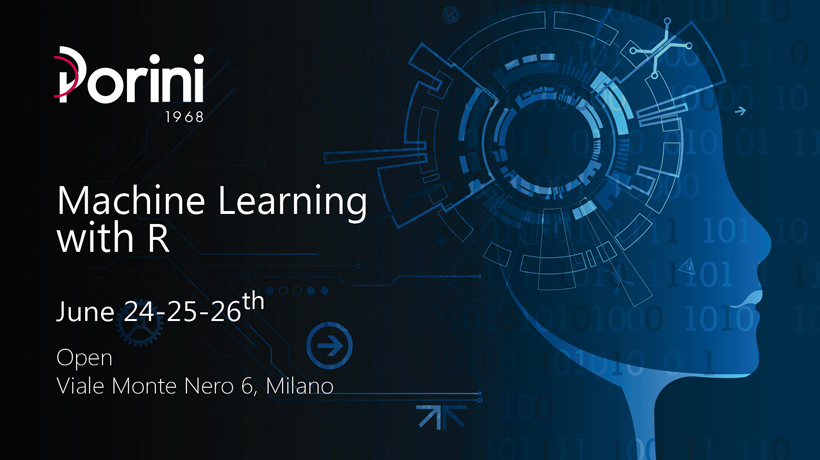 Open
Viale Monte Nero 6, Milan
PORINI organizes the Machine Learning with R course: the course aims to provide to Data Scientist and Data Analyst with the theoretical and practical basis of Machine Learning that will allow to analyze in an automatic way the company data creating innovative models to guarantee to your company reality a net advantage over the competition.
At the end of sessions, you will be able to build Machine Learning models using the R language and deploy the solution using the Azure Machine Learning Studio cloud services.
Date: 24-25-26 June
Location: Open, Viale Monte Nero 6, Milan
Teacher: Andrea Barone

Open
Viale Montero 6, Milano
PORINI organizza il corso di Machine Learning con R: il corso si pone l'obiettivo di fornire ai Data Scientist e ai Data Analyst le basi teoriche e pratiche di Machine Learning che permetteranno di analizzare in modo automatico i dati aziendali creando modelli innovativi per garantire alla tua realtà aziendale un netto vantaggio sulla concorrenza.
Al termine delle sessioni, sarai in grado di costruire modelli di Machine Learning utilizzando il linguaggio R e di distribuire la soluzione utilizzando i servizi cloud di Azure Machine Learning Studio.
Il corso ha la durata di 3 giorni e al termine delle lezioni riceverai un Attestato di Frequenza che certifica il percorso seguito e la dispensa che comprende le presentazioni e il codice utilizzato durante il corso.
Data: 24-25-26 giugno
Location: Open, Viale Monte Nero 6,  Milano
Docente: Andrea Barone
https://www.porini.it/wp-content/uploads/2019/05/190624-Corso_MLR_ENG_News-820x460.jpg
460
820
Porini Marketing Team
https://www.porini.it/wp-content/uploads/2019/09/Logo_Porini-184x110.png
Porini Marketing Team
2019-05-27 15:54:13
2019-06-07 16:05:32
Porini Education: Machine Learning with R course