PORINI WITH CONFINDUSTRIA BERGAMO: THE NEW SERVICE FOR ADVANCED TRAINING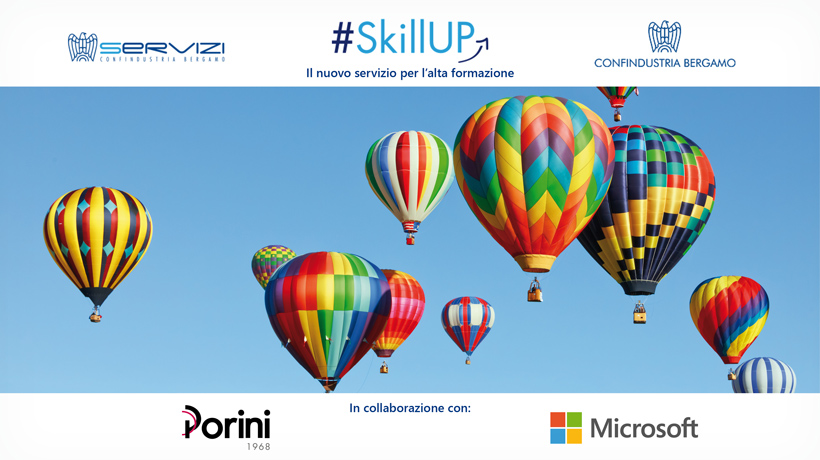 Porini with Confindustria Bergamo: the new service for advanced training 
Date: 3rd June 2019, from 5pm to 7pm
Location: Sala Giunta, Confindustria Bergamo
Porini presents Skill Up, the project of Servizi Confindustria Bergamo, for companies that need training services, that guarantee a consistency between the skill needs and education provided and that will increase their market competitiveness as well as the business value growth.
Within the current context of Industry 4.0, characterized by continuous technological progress, digitisation and ageing of the population, Porini has decided to support Servizi Confindustria Bergamo in the delivery of this new service, providing ad hoc training for companies in Big Data and IoT areas on Microsoft platform.
The features of the service will be presented on June 3rd at the Sala Giunta of Confindustria Bergamo and, through Microsoft and Porini testimonials, successful case studies in Iot and Big Data for SME will be analysed.
In order to partecipate in the event it is necessary to register before May 27.

Porini con Confindustria Bergamo: il nuovo servizio per l'alta formazione 
Data: 3 giugno 2019, dalle 17.00 alle 19.00
Location: Sala Giunta, Confindustria Bergamo
Porini presenta Skill Up, il progetto di Servizi Confindustria Bergamo, destinato alle aziende che necessitano di servizi formativi, che garantiscano una coerenza tra fabbisogno di competenze e didattica erogata e che puntino ad aumentare la propria competitività sul mercato e la crescita del valore aziendale.
All'interno del contesto attuale Industry 4.0, caratterizzato da un continuo progresso tecnologico, dalla digitalizzazione e dall'invecchiamento della popolazione, Porini ha deciso di supportare Servizi Confindustria Bergamo nell'erogazione di questo nuovo servizio, fornendo della formazione ad hoc per le imprese in ambito di Big Data e IoT su piattaforma Microsoft.
 Le caratteristiche del servizio verranno presentate il 3 giugno presso la Sala Giunta di Confindustria Bergamo e, attraverso le testimonianze di Microsoft e Porini, si analizzeranno dei case studies di successo in ambito IoT e Big Data per le PMI.
AGENDA
| | |
| --- | --- |
| 16.30  | Registrazione partecipanti |
| 17.00  | Saluti da parte di Servizi Confindustria Bergamo |
| 17.15  | Presentazione di #SkillUP, Ilaria Finardi – Servizi Confindustria Bergamo |
| 17.45  | Smart Plant & Smart Products: transforming industry with IoT technologies and artificial intelligence, Roberto Filipelli – Microsoft |
| 18.15  | Manufacturing Revolution: il valore dei dati e le nuove tecnologie a supporto della crescita e della competitività delle PMI, Tommaso Pozzi – Porini |
| 18.45  | Chiusura lavori |
Per partecipare è necessario registrarsi entro il 27 maggio 2019.
https://www.porini.it/wp-content/uploads/2019/05/190603-Confindustria_News-820x460.jpg
460
820
Porini Marketing Team
https://www.porini.it/wp-content/uploads/2019/09/Logo_Porini-184x110.png
Porini Marketing Team
2019-05-15 16:12:01
2019-05-27 11:44:14
PORINI WITH CONFINDUSTRIA BERGAMO: THE NEW SERVICE FOR ADVANCED TRAINING