DGS SpA becomes the major shareholder of Porini Srl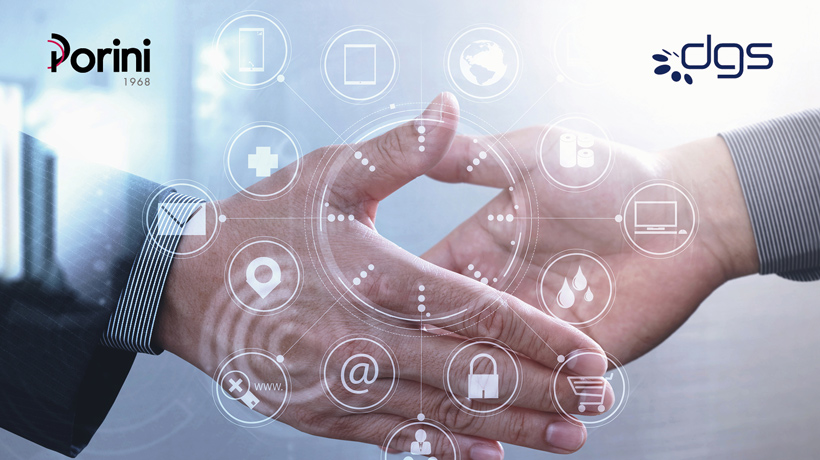 DGS SpA becomes the major shareholder of Porini Srl. The successful route of the DGS-Porini duo continues, both from an industrial and a market point of view.
On the 28 of December 2018 DGS SpA and Porini Srl have signed a strategic collaboration agreement to face together the challenges imposed by the technological revolution in Manufacturing.
Thanks to that, DGS-Porini can now offer to the market many different expertises based on Microsoft's technological platforms, both on the national and international market, in Manufacturing, Retail, Fashion and Textile


Prosegue la marcia trionfale del binomio DGS-Porini, sia dal punto di vista industriale che di mercato.
Il 18 luglio scorso, come previsto dall'accordo strategico DGS-Porini siglato il 28 dicembre 2018, DGS SpA ha acquisito la quota di maggioranza di Porini Srl.
DGS inoltre, forte anche dell'acquisizione del gruppo Maneat, continua in modo serrato la propria strategia di ingresso e di sviluppo nel mercato del Manufacturing e del Retail.
A questo si aggiunge la sfida, intrapresa ad inizio anno, per la creazione di una nuova Piattaforma di Extended Supply Chain che sta per concludersi in questi giorni, con il lancio del più innovativo framework dedicato al mondo della produzione e della distribuzione.
Grazie a tutto questo DGS-Porini può ora offrire al mercato un polo di competenze sempre più di eccellenza sulle piattaforme tecnologiche di Microsoft, sia sul mercato nazionale che internazionale, in ambito Manufacturing, Retail, Fashion e Textile.
"Quest'acquisizione ha per DGS una doppia valenza – commenta l'AD di DGS, Vincenzo Fiengo – da un lato permette a DGS di posizionarsi in maniera importante nel mercato Manufacturing e dall'altro, di rafforzare il rapporto strategico con Microsoft entrando a pieno titolo nell'eco-sistema dei partner su piattaforma Azure "
"L'ingresso di DGS, – commenta il CEO di Porini, Tommaso Pozzi – consentirà a Porini di accelerare il percorso di crescita e di rafforzamento della posizione di leadership nell'ambito della proposta di valore su piattaforma Microsoft, a maggior ragione potendo rafforzare ed integrare il proprio portfolio d'offerta con una piattaforma di Extended Supply Chain rivoluzionaria"
https://www.porini.it/wp-content/uploads/2019/07/190719-Comunicato_News-820x460.jpg
460
820
Porini Marketing Team
https://www.porini.it/wp-content/uploads/2019/09/Logo_Porini-184x110.png
Porini Marketing Team
2019-07-24 10:40:15
2019-09-02 14:14:00
DGS SpA becomes the major shareholder of Porini Srl