Porini attends Microsoft Forum 2017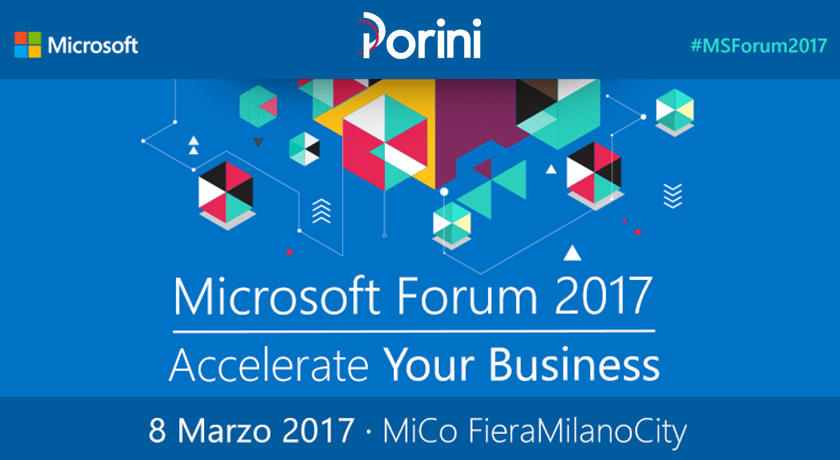 Microsoft Forum 2017 – Accelerate Your Business
The Industrial Revolution 4.0 and the new features on the market
March 8 2017 – MiCo FieraMilanoCity
Gate 3 – Scarampo boulevard, Milan
Stand 16

PORINI will attend Microsoft Forum 2017, the 2nd edition of Microsoft's biggest annual event aimed at business decision makers.
An event where Italian industry and innovation come together and give rise to new knowledge and new ideas on the digital transformation that is dramatically changing the business models and the competitiveness of companies, the way we work and we live, and our identity.
An event to support Italian companies in its path of innovation thanks to an intelligent cloud that leverages the data as a key element to support decisions to reinvent productivity and business processes and to imagine more and more natural, personalized and efficient way of interaction.
Thematic tours with themes such as: Cybersecurity, big data and analytics, CRM & ERP, artificial intelligence and cognitive services, IoT, smart working and smart collaboration, cloud computing.
Storeis of Italian successful companies told concretely even in experiential area.
Opportunity for interaction and relationship with partner and experts.
Follow the hashtag #MSForum2017 and join the conversation.
La Rivoluzione Industriale 4.0 e i cambiamenti che sta generando sul mercato
8 marzo 2017 – MiCo FieraMilanoCity
Gate 3 – Viale Scarampo, Milano
Stand 16
PORINI partecipa a Microsoft Forum 2017, la 2° edizione del più grande evento annuale di Microsoft rivolto ai decisori aziendali.
Un evento dove industria italiana e innovazione si incontrano e danno vita a nuova conoscenza e nuove idee sulla trasformazione digitale che sta modificando radicalmente i modelli di business e la competitività delle aziende, il modo di lavorare e di vivere e la nostra stessa identità.
Un evento per affiancare le aziende italiane nel proprio percorso di innovazione grazie a un cloud intelligente che sfrutti il dato come elemento chiave a supporto delle decisioni per reinventare produttività e processi di business e immaginare modalità di interazione sempre più naturali, personalizzate ed efficienti.
Percorsi tematici con temi quali: Cybersecurity, big data & analytics, CRM & ERP, intelligenza artificiale e cognitive services, IoT, smart working e smart collaboration, cloud computing.
Storie di aziende italiane di successo raccontate concretamente anche in un'area esperienziale.
Momenti di incontro e relazione con partner e esperti.
Segui l'hashtag #MSForum2017 e partecipa alla conversazione.
Segui la diretta streaming
https://www.porini.it/wp-content/uploads/2017/02/PORINI-banner-sito-x-MSForum.png
460
840
Porini Marketing Team
https://www.porini.it/wp-content/uploads/2019/09/Logo_Porini-184x110.png
Porini Marketing Team
2017-03-08 15:20:43
2018-03-12 10:01:40
Porini attends Microsoft Forum 2017