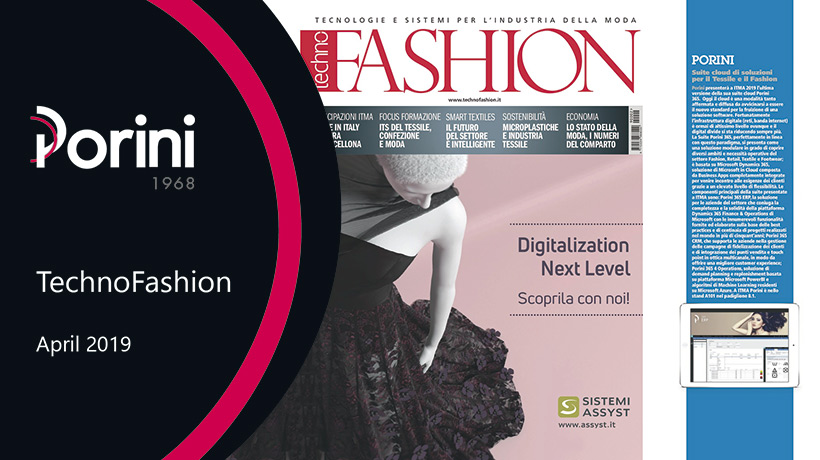 Porini 365 , the new Cloud Suite of solutions for textile and fashion companies
Porini 365 Suite appeared in Technofashion magazine in the April 2019's edition.
Porini will present the latest version of its Porini 365 cloud suite at the most prestigious showcase for the sector, ITMA 2019.
The Porini 365 Suite, perfectly in line with this paradigm, presents itself as a modular solution able to cover different areas and operational needs of the Fashion, Retail, Textile and Footwear sectors: it is based on Microsoft Dynamics 365, a Microsoft Cloud Platform composed by fully integrated Business Apps capable to meet the needs of customers thanks to a high level of flexibility.
Porini will be at ITMA at Booth H 8.1 A101.

Suite cloud di soluzioni per il Tessile e il Fashion
Porini presenterà a ITMA 2019 l'ultima versione della sua suite cloud Porini 365. Oggi il cloud è una modalità tanto affermata e diffusa da avvicinarsi a essere il nuovo standard per la fruizione di una soluzione software. Fortunatamente l'infrastruttura digitale (reti, banda internet) è ormai di altissimo livello ovunque e il digital divide si sta riducendo sempre più. La Suite Porini 365, perfettamente in linea con questo paradigma, si presenta come una soluzione modulare in grado di coprire diversi ambiti e necessità operative del settore Fashion, Retail, Textile e Footwear; è basata su Microsoft Dynamics 365, soluzione di Microsoft in Cloud composta da Business Apps completamente integrate per venire incontro alle esigenze dei clienti grazie a un elevato livello di flessibilità. Le componenti principali della suite presentate a ITMA sono:
Porini 365 ERP, la soluzione per le aziende del settore che coniuga la completezza e la solidità della piattaforma Dynamics 365 Finance & Operations di Microsoft con le innumerevoli funzionalità fornite ed elaborate sulla base delle best practices e di centinaia di progetti realizzati nel mondo in più di cinquant'anni;
Porini 365 CRM, che supporta le aziende nella gestione delle campagne di fidelizzazione dei clienti e di integrazione dei punti vendita e touch point in ottica multicanale, in modo da offrire una migliore customer experience;
Porini 365 4 Operations, soluzione di demand planning e replenishment basata su piattaforma Microsoft PowerBI e algoritmi di Machine Learning residenti su Microsoft Azure.
A ITMA Porini è nello stand A101 nel padiglione 8.1.
https://www.porini.it/wp-content/uploads/2019/04/190418-Technofashion_Post-820x460.jpg
460
820
Porini Marketing Team
https://www.porini.it/wp-content/uploads/2019/09/Logo_Porini-184x110.png
Porini Marketing Team
2019-04-29 10:30:10
2019-04-29 10:30:10
"Porini 365, the new Cloud Suite of solutions for textile and fashion companies." Technofashion, April 2019.