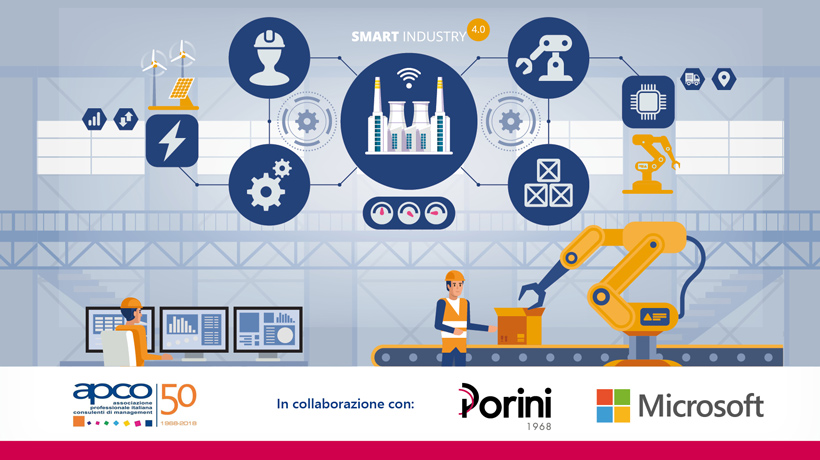 Date: 28th June 2019, from 09.00 to 13.00
Location: Microsoft House, Viale Pasubio 6, Milan
Porini invites you to the event "The digital transformation in Industry 4.0: opportunities, solutions, actions".
In collaboration with APCO, the professional association of individuals that gathers and qualifies those who carry out organizational and managerial consultancy activities, Porini will illustrate how Iot and Big Data can help companies to catch the opportunities that the current context of digital transformation offers; during the event  Microsoft will also partecipate showing how the companies can deal with the era of digital transformation and its challenges.
The Industry 4.0 and the digital transformation of business processes have been the topics of major discussion in recent years, posing new challenges to companies: the event will be a opportunity of comparison among professionals of the sector to reflect on possible present and future impacts of digital transformation and Industry 4.0 on the companies.

Data: 28 giugno 2019, dalle 09.00 alle 13.00
Location: Microsoft House, Viale Pasubio 6, Milano
Porini ti invita all'evento "La trasformazione digitale nell'Impresa 4.0: opportunità, soluzioni, azioni".
In collaborazione con APCO, l'associazione professionale di individui che riunisce e qualifica coloro che in Italia svolgono attività di consulenza organizzativa e direzionale, Porini illustrerà come Iot e Big Data possano aiutare le imprese a cogliere le opportunità che l'attuale contesto di trasformazione digitale offre; durante la giornata è previsto anche un intervento di Microsoft che illustrerà come l'azienda abbia saputo affrontare l'era della trasformazione digitale e le sue sfide.
L' Impresa 4.0 e la trasformazione digitale dei processi aziendali sono stati gli argomenti di maggior discussione in questi ultimi anni, ponendo nuove sfide alle aziende: l'evento sarà occasione di confronto tra professionisti del settore per riflettere sui possibili impatti presenti e futuri della digital transformation e della industry 4.0 sulle imprese.
| | |
| --- | --- |
| 09.00 – 09.30 | Welcome |
|  09.30 – 09.45 | Cesara Pasini (Consulente qualificato CMC® – Presidente APCO) Apertura lavori: L'approccio APCO alla trasformazione digitale dell'impresa 4.0 |
|  09.45 – 10.00 | Angelo Bilardo (Partner Development Manager Microsoft). Apertura lavori: La Digital Transformation di Microsoft |
|  10.00 – 10.15 | Marco Libretti (Direttore innexHub – Innovation Experience Hub): L'impresa 4.0 nella prospettiva imprenditoriale (strategie, azioni e collaborazioni) |
|  10.15 – 10.30 | Mario Gibertoni (Consulente qualificato CMC® APCO): Impresa 4.0 – Luci ed ombre – Riflessioni sulle prime esperienze di innovazione |
|  10.30 – 11.00 | Livio Lavelli (Consulente qualificato CMC® e Coordinatore Delegazione APCO Nord): Il processo di innovazione e trasformazione digitale nell'impresa |
|  11.00 – 11.30 | Coffe Break |
|  11.30 – 12.00 | Michele Gallo (Consulente qualificato CMC® APCO): Aree di applicazione della trasformazione digitale |
|  12.00 – 12.30 | Porini – Mario Gennari (Sales Manager): Best Practice in ambito IoT, Big Data (soluzioni tecnologiche attuali e prospettive future) |
|  12.30 | Tavola Rotonda (Domande e risposte) e chiusura lavori |
|  13.00  | Light Lunch |
https://www.porini.it/wp-content/uploads/2019/06/190628-APCO_News-820x460.jpg
460
820
Porini Marketing Team
https://www.porini.it/wp-content/uploads/2019/09/Logo_Porini-184x110.png
Porini Marketing Team
2019-06-05 15:18:45
2019-09-02 14:26:30
Porini and APCO Italia: "The digital Transformation in industry 4.0: Opportunities, solutions, actions"