Porini with Experis Academy: Business Intelligence Course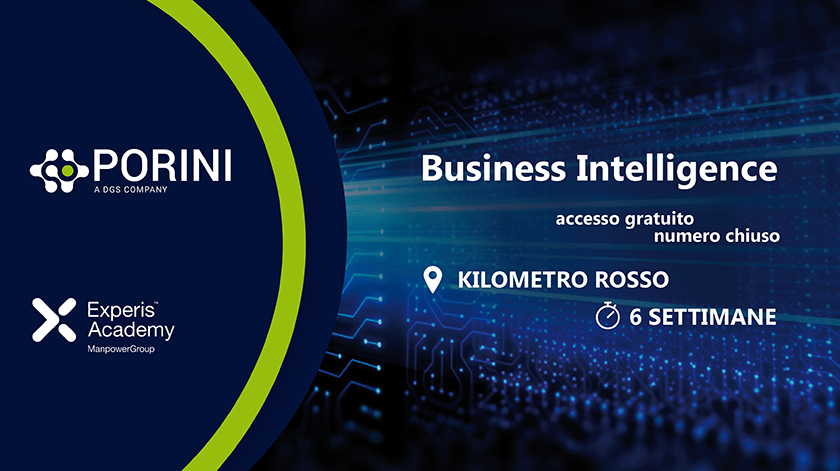 Porini with Experis Academy:
Business Intelligence course
Porini with Experis Academy presents the Business Intelligence specialization course.
The course is dedicated to business analysts and IT developers with a focus on business intelligence who want to learn how to engineer models and architectures related to the business data world to improve strategic decision-making.
DATE: 11th November – 19th December 2019
FREQUENCY: 6 weeks – From Monday to Friday – full time
LOCATION: Kilometro Rosso, Bergamo

Porini con Experis Academy:
Corso in Business Intelligence
Porini con Experis Academy presenta il corso di specializzazione in Business Intelligence.
Il corso è dedicato a business analyst e sviluppatori IT con focus in ambito Business Intelligence, che vogliono imparare ad ingegnerizzare modelli e architetture complete legate al mondo dei dati aziendali per il miglioramento dei processi decisionali strategici.
Principali argomenti
Power Bi, SQL server & TSQL, ETL & integration services, modellizzazione multidimensionale, AS & tabular, overview Cloud, Azure, PowerShell, Azure Storage, Data Factory, Python, Databricks, Azure machine learning.
A chi è rivolto
Il corso di specializzazione è rivolto a 15 giovani laureati o laureandi in Economia e Commercio, Statistica, Ingegneria Informatica, Informatica, Fisica, Matematica o discipline scientifiche affini; ma anche neodiplomati (maturità scientifica, periti informatici, ragionieri con indirizzo informatico) che dimostrino un'ottima preparazione e familiarità con gli strumenti informatici e i linguaggi di programmazione.
DURATA: 11 Novembre – 19 dicembre 2019
FREQUENZA: 6 settimane – Lezioni dal lunedì al venerdì – full time
SEDE: Kilometro Rosso, Bergamo
https://www.porini.it/wp-content/uploads/2019/09/191111-Business_Intelligent_News-840x471.jpg
471
840
Porini Marketing Team
https://www.porini.it/wp-content/uploads/2019/09/Logo_Porini-184x110.png
Porini Marketing Team
2019-10-03 13:38:59
2019-10-03 13:38:59
Porini with Experis Academy: Business Intelligence Course